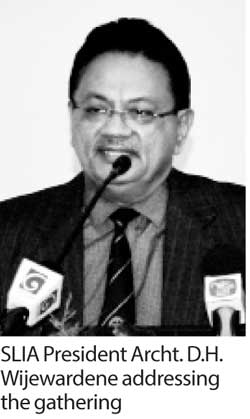 The 36th Annual Sessions of the Sri Lanka Institute of Architects (SLIA) is about to bring in novelty and originality to the architecture arena, as the annual sessions will be held from February 21st to 25th 2018 at the BMICH, Colombo.

The theme for this year will be 'Architecture to represent people and place', highlighting a variety of innovative zones of architecture. The annual sessions consist of a series of events including the most looked forward event - 'A18 (Architect 2018) Members' Work and Trade Exhibition'.

The concept and theme of this year's exhibition stands out from the rest with a lineup of diverse events. The virtual reality web is a unique and an outstanding aspect of the exhibition this year. The virtual reality web will serve as a mutual electronic forum and platform where the architects will proudly present their products and services in this legendary Sri Lankan Exhibition of Architects. This exhibition will witness a paradigm shift from the norm to a virtual e-exhibition. Visitors would be able to surf, compare and analyse services, materials and information of all products displayed in over 300 stalls with more than 130 Architects' panels via internet.

SLIA President Archt. D.H. Wijewardene in his speech mentioned: "Architecture has become a very important profession to Sri Lanka with the latest developments that are happening around the country. It is the responsibility of the professionals to guide the general public and policy makers in the right direction to arrive at the most suitable built environment for the people of this country."

The Architect Exhibition will be inaugurated with grandeur and splendor on February 21st 2018 at the BMICH. This most looked forward exhibition will commence till February 25th 2018. The inauguration will be successfully followed by the National Conference on the next day, February 22nd 2018 at the BMICH.

The theme 'Architecture to represent people and place' this year, is certainly about to bring in newness and individuality to the arena and revolutionise the format of the event and exhibition of the 36th annual sessions of the SLIA.