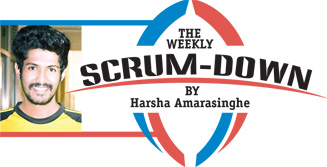 There was never a doubt about it. Kandy Sports Club winning the Dialog Inter-Club League Rugby title was always on the cards, and last Saturday they were crowned champions officially after hammering an in-form Navy side 41-17 at Welisara.
The Sailors though had some indifferent results at home this season, are generally very hard to beat at the Navy Base, but Kandy just made things look ridiculously easy.
Dhanushka Perera's team is known for the strength of their forward pack, but Kandy's third try which was scored by number eight Buwaneka Udangamuwa appeared to have killed Navy's confidence as the Sri Lanka International carried three defenders on his back to the try line before crashing over to score.
In games of this nature, it's always important to make an early statement and that was exactly what Udangamuwa did before unfortunately limping off with an injury later in the first-half. However, Kandy barely missed his presence because of their squad depth.
As soon as Udangamuwa was taken off Heshan Silva moved to number eight with Shehan Pathirana coming off the bench to join the third row. Kandy were without the competition's highest try scorer Anurudda Wilwara, and Danush Dayan for this clash, but they had quality replacements in Richard Dharmapala and Lavanga Perera and both of them had tries under their name just ten minutes into the kick-off. They have high class players and replacements for each position which is not the case with any other team.
For instance, Havelock Sports Club were almost beaten by Police Sports Club in the absence Dulaj Perera and Niroshan Fernando a couple of weeks ago while CR and FC struggled in the first round having to play without their captain Kavindu Perera. Army Sports Club had a horrible run without scrum-half Mohamed Rizvi while CH have underperformed when Lee Keegel is unavailable
Even Kandy had injuries. The Sevens sensation Danushka Ranjan was injured for three weeks, scrum-half Roshan Weeraratne was hardly involved in the second round and flanker Shehan Pathirana served a four-game ban, but at no point did Kandy field a weaker side because they had superb replacements in that squad.
Navy although were beaten, are still in with a great chance of finishing second, and the Havies defeat to CR and FC just made things even easier for them.
Havies hopeless against CR
At the beginning of the season, Havelock Sports Club was recognised as the closest rival to Kandy in the race for the Inter-Club title, but as the season progressed it was seen that there are a few better teams than them.
By the end of the first round, Havies probably knew that they were not going to win the title, so they could have probably been happy with a second place finish, but now their chances of finishing in the top two, are very slim.
Their 22-30 defeat to CR and FC last week left them with a mountain to climb. They could possibly beat Navy next week, but it's hard to imagine that such a young team could beat Kandy in Nittawela during the final week of the competition. On the other hand Navy would be playing Air Force in the last week of the tournament and are likely to win with the bonus point.
Since Kevin Dixon's injury Havies have struggled to accumulate tries and Sandun Herath fracturing his ankle did not help the cause either. Chamara Dabare and Ramesh Fernando have played decently, but at this level playing decent rugby is not good enough.
This however takes nothing away from CR and FC who played quite brilliantly after a while. It was always going to be a battle between the CR backs and the Havelock forwards, and on Saturday the likes of Reeza Raffaideen and Chamod Fernando came out all guns blazing.
CR have occupied fifth place behind CH and FC and will look to finish in the top four with both these teams sponsored by JAT Holdings set to battle it out in the final week. However at this moment, they look destined to meet in the fourth quarter-final of the Clifford Cup.
CH claim thriller
CH and FC left it late to secure a thrilling 30-28 win over Army Sports Club at Havelock Park on Sunday.
The Maitland Crescent Club had fielded a new-look side with a few players being ruled out due to injuries. Most notably the Lee brothers: Avishka and Avantha were not included in the match day squad along with Sasanka Ariyarathne and Dinushan Ariyapala while centre Lee Keegel and number eight Chathura Dilshan did not start the game.
Flanker Yoshitha Rajapaksa was once again among the tries, and played a stellar role in setting up the win while Keegel made a big impact coming off the bench in the second-half.
The defeat to CH meant that Army have lost all their second round games which is a surprise given that they were third at the end of the first round. They were targeting a second-place finish going into the latter half of the tournament, but if anything, they could only secure the second place from the bottom, now.
Police break the duck
Well it took Police Sports Club nearly three months, and 12 games to finally seal a win, but most importantly they did claim a win after beating Air Force Sports Club 18-12 on Saturday.
This win also meant that they moved off the bottom pushing the Airmen to eighth place.
Flanker Wajid Fawmy has been one of their best players this season and his try scoring form played a huge role in their recent heroics while place kicker Sandesh Jayawickrama has quietly made himself an integral part of this Police team.
The Cops will push for a sixth place finish although it looks highly unlikely at the moment.