---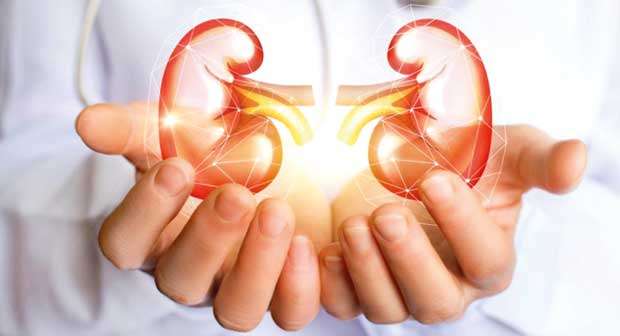 Every single cell, tissue and organ leads to the organisation of various vital body systems that ensure proper functioning of the human body. A discrepancy in one organ could lead to the collapse of the body system thereby affecting the functioning of the human body as a whole. A dysfunctional organ brings about the domino effect, ultimately deteriorating the quality of health. One important organ that needs attention is the kidney. The bean shaped organ is mainly responsible for excretion of toxic waste substances from the body and regulating water levels in the blood. Kidney complications are not rare in the island with more kidney patients springing up every day. Dr. Nalaka Gunawansa, Consultant Vascular, Endovascular and transplant surgeon, National Institute of Nephrology Dialysis and Transplantation and National Hospital of Sri Lanka sheds light on kidney failures and the treatment used for these conditions in this week's edition of Health Capsule.

Kidney damages and failure
Dr. Gunawansa mentioned that there are many ways through which the kidneys could get damaged. Conditions such as diabetes and high blood pressure, which are long standing illnesses, infections such as repeated urinary infections in particular are some causes for kidney damage. "Urinary stones (also known as calculi) is another factor that leads to damaged kidneys. Rare conditions such as autoimmune diseases, where the body itself produces antibodies that can harm the organs including kidneys as well as congenital illnesses, are some other reasons for this condition," he added.
The congenital kidney diseases often affect younger children. Infections can also affect the kidneys in younger children; especially in those who have a structural abnormality in the urinary tract
Are you at risk?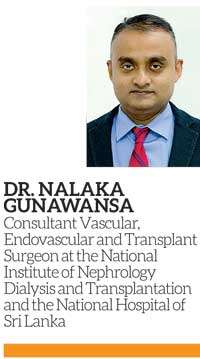 Upon inquiry Dr. Gunawansa warned that kidney damage can occur at any age. However young children seem more susceptible to certain conditions compared to adults. "The congenital kidney diseases often affect younger children. Infections can also affect the kidneys in younger children; especially in those who have a structural abnormality in the urinary tract," he explained. He further added that infections, stones and autoimmune disease affecting kidneys are commonly seen in young adults who are between the ages 20-40. "Chronic illnesses such as diabetes and high blood pressure affecting kidneys is usually seen in adults above 40 years of age," he stated.

According to Dr. Gunawansa, damaged kidneys do not show partiality towards a specific gender. Therefore both males and females should equally take proper care of their kidneys. "However, urine infections are generally more common among females due to the short urinary tract. Autoimmune diseases affecting kidneys are also slightly more common among females," the surgeon highlighted.

Consequences and complications
Needless to say, a damaged kidney will lead to adverse consequences and complications. Dr. Gunawansa explicated that this could happen in two ways. "This can occur as an acute kidney injury or a chronic kidney injury. The kidney damage is of short duration and is often reversible in acute cases. Chronic kidney injuries are more serious where the injury is more long standing and gradually progresses to a state where it becomes irreversible," he explained.

"Kidney failure leads to a multitude of symptoms including water retention, loss of appetite, loss of energy and anaemia which results in low haemoglobin levels in the blood," he continued.

Dr. Gunawansa further went on to say that later on they could become very sick due to accumulation of toxins in the body. These toxins could be substances like urea, potassium and acid.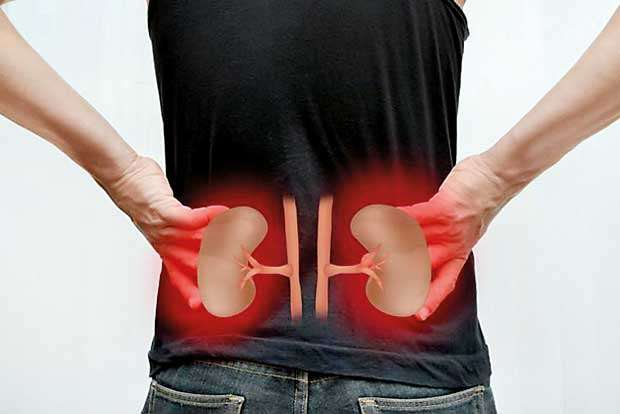 Treatment and recovery
Surgery stands as a method of treatment for damaged kidneys. Dr. Gunawansa spoke about different types of surgery available for extreme

kidney damage.Calculi could lead to damaged kidneys and hence should be treated immediately. "Urine stones can be treated in many ways including surgery, laser and other minimal invasive techniques," he mentioned.

The surgeon stated that in cases of infected kidneys initial treatment is performed by the prescription of antibiotics. If a patient does not respond positively to antibiotics, the condition is treated by nephrostomy. "Here the infected urine can be drained out by a needle and catheter to allow the kidneys to heal," Dr. Gunawansa explained.

He continued that kidneys may be removed very rarely in cases like severe circumstances of cancer, large stones, extreme infections etc.

Kidney Transplant is the ultimate treatment for kidneys that fail completely and for patients who end up with end stage kidney failure. The doctor explained that a kidney from a donor (either living or dead) is transplanted after matching the blood group and tissue antigens.

"Kidney transplant is the most successful treatment for end stage kidney failure anywhere in the world. Our own results are also in keeping with most advanced canters and we have patients who have now lived 15-20 years or more following transplants. They can return to their normal lives, occupation and studies successfully after a transplant," affirmed Dr. Gunawansa.

Post-surgery care
After a surgery following a kidney complication, patients need to exercise caution and alter habits which is necessary to maintain health. "Controlling blood sugar, blood pressure, drinking plenty of water to minimize dehydration, treating infections early and maintaining close follow ups with your kidney doctor regularly are some factors that should be paid attention to," he pointed out.

Prevention is always the better option especially in the case of kidney complications. Similarly to the above mentioned precautions, a person should always check his or her blood sugar levels and blood pressure.

Drinking plenty of water helps avoid many health complications. If people suffer from diabetes and high blood pressure in particular, it is important to highlight that they are exposed to a higher risk of kidney failure. "You need to control these illnesses well and have close follow-ups with your doctors," advised Dr. Gunawansa.