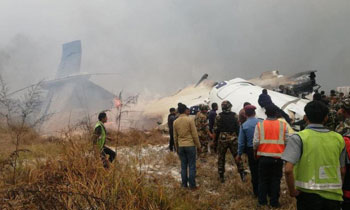 A plane has crashed at Tribhuvan International Airport in Nepal's capital, Kathmandu, BBC reported.
The plane, operated by US-Bangla, a Bangladeshi airline, veered off the runway while landing on Monday afternoon, causing a blaze that firefighters have been tackling.
About 67 people were thought to be on board, officials told the BBC.
A number of people have been injured, Nepal police spokesperson Manoj Neupane told BBC News Nepali.
The plane can reportedly carry 78 passengers, local news site My Republica reported.
Photos and video posted on social media showed smoke rising from an airport runway.