---
By Chandeepa Wettasinghe
Diversified conglomerate, Softlogic Holdings PLC, may delist its leading fashion and lifestyle subsidiary Odel PLC from the Colombo Stock Exchange (CSE), as the deadline for coming in line with the market regulator's minimum public shareholding rule looms.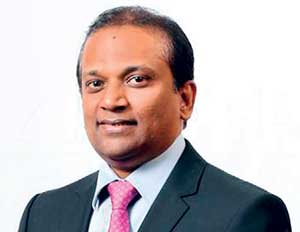 "It is (delisting) an option. We own almost 97 percent. We believe the Odel stock is valued at much more than that because if you look at our balance sheet, our net asset value is more than our share value," Softlogic Holdings Chairman Ashok Pathirage told Mirror Business yesterday. The Odel share closed at Rs.21.70 yesterday, up 10 cents from the previous close. The company's net asset value stood at Rs.23.75 as at June 30, 2016.

"Why not? If they (Odel shares) are selling at that price, we might as well buy, so that we always have that option of delisting the company and if we want to raise money later, we can raise privately," Pathirage added.

He noted that with the Odel mega mall under construction, as well as more brands and stores in the pipeline, the value of Odel will increase over time.
"Maybe later we will think of bringing it back and list it either in Sri Lanka or list in another market that gives the right valuations to our companies," Pathirage added.

Softlogic bought 45.16 percent of Odel shares from its founder Otara Gunawardene in September 2014 and a mandatory offering saw Softlogic increasing its shareholding in Odel to 93.20 by October 2014.

Since then, Softlogic has continuously been purchasing the shares of Odel and as at June 30, 2016, Softlogic held a 96.67 percent stake in Odel. Odel share purchase by Softlogic has continued since then as well.

All listed companies are required to have a 20 percent public shareholding distributed among 750 shareholders to remain listed on the Main Board or a 10 percent public shareholding among 200 shareholders to remain on the Diri Savi Board.

Alternatively, a main board company with a market capitalization above Rs.5 billion could have a 10 percent public float among 500 shareholders.

The rules were brought to diversify the ownership of companies and to increase liquidity in the bourse.

However, many companies on the Main Board have transferred themselves to the Diri Savi Board, while several others have delisted or are in the process of delisting.

The Securities and Exchange Commission (SEC) had said that it was open to alternative regulations that have a similar effect as the minimum public shareholding rule and was willing to extend the deadlines if justifiable.

Odel has a market capitalization of Rs.5.63 billion and it represents 0.21 percent of the CSE's total market capitalization.

For the June quarter (1Q16), Odel posted a top line of Rs.1.49 billion and a bottom line of Rs.35.56 million. Its asset base was Rs.9.55 billion.

Pathirage added that he projected the fashion retail business to double in revenue in another three to four years, banking on the growing aspirations of the country's middle class, despite the inflation and interest rate hikes.