---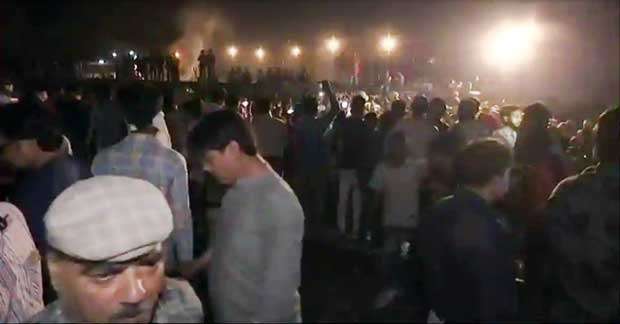 Amritsar, (Hindustan Times), Oct 19, 2018 - At least 50 people were killed and several injured when a train ran into a crowd watching Dussehra celebrations in Amritsar's Dhobi Ghat near Jaura Phatak railway crossing in Punjab.

The incident took place at around 6:45 pm. A crowd of around 300 people was watching Ravan effigy burn, additional district commissioner of police, city-2, Lakhbir Singh said.

When the effigy of Ravana burnt, the whole area resonated with the sound of the crackers. At this time, a DMU train no. 74943 came and ran into people standing on the track, filming videos of the burning effigy.

Subdivisional magistrate Rajesh Sharma said death toll had mounted to 50, according to PTI.

Another police officer of Amritsar police said around 35 people has received serious injuries in the incident.

Eyewitnesses said there were no barricading near the railway tracks and the people were forced to see the Dusshehra ceremony by standing on tracks. The effigy of Ravana was being burnt around 200 feet away from the railway track.

ANI quoted Northern Railway CPRO as saying that due to some incident, people started running towards gate no. 27 between Amritsar and Manawala.

News agency PTI said according to officials, two trains arrived from opposite direction at the same time giving little opportunity to people to escape.