---

In the first two articles in this series of articles under the above subject, we discussed the different gems and precious stones recommended by ancient Indian Rishis for wearing on the body to ward off malefic influences caused by the nine planets to attract or enhance beneficial effects produced by them.

In the article on this page last Friday, we discussed the favourable effects that can be derived from wearing Ruby, Pearl, Coral and Emerald irrespective of their virtues in relation to different planets. In this article we propose to discuss the benefits that can be derived from wearing other gems and precious stones.

Pushparaga (Yellow Sapphire):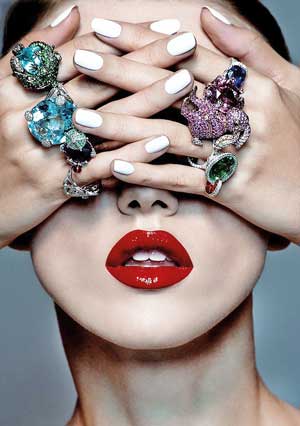 Pushaparaga or Yellow Sapphire is the gem of Jupiter.
Pushparaga has been recommended by ancient Indian seers to ensure good health, peace of mind and regulate blood pressure.

Pushparaga has medicinal properties which give physical strength, relief from flatulence, digestive disorders, and whip up appetite.

Yellow Sapphire helps maidens to find a suitable life partner. It improves vision and secure life. It should be worn set in gold on the first finger on a Thursday during the bright half of the Lunar month. It bestows riches, wisdom, health and knowledge.

Diamond
Diamond is the Favourite gem of Venus. Diamond has been recommended for wearing to increase wealth, win over love and secure a comfortable living. It has been recommended for wearing as a remedy for impotency, diabetes and ailments resulting from excessive taking of liquor and indulgence in sex. Diamond is looked on as a status symbol and it gives a life of luxury.

Diamond should be worn on the ring finger of the right hand set in a white metal on a Friday. The weight should be a quarter to half a gram.

Blue Sapphire
Blue Sapphire or Nilakanthimati is the gem of Saturn.

In Ayurveda this gem is described as being bitter. It is efficacious for destroying the three Doshas, Vaata, Pita, Kapta. According to ancient seers, Blue Sapphire possesses strong powers and should not be worn unnecessarily. This stone is also found with a clear red bubble in the centre.

Gomedha (Hessonite Garnet)
Gomedha is the gem recommended for wearing to ward off evils caused by Rahu. It is called Gomedha because it looks like beef fat. In Ayurveda it is recommended for getting relief from Vaata (windiness). It helps digestion and whips up appetite. It is hailed a s a remedy for excessive phlegm (Kapta) and Pita.

Cat's Eye (Vaidurya)
Cat's Eye is the stone recommended for Ketu. It is described in ancient books on Ayurveda as being hot and sour. It provides relief from windiness and phlegm. It has the power to cure colic and tumor It helps safe and painless childbirth if it is tied to the hair of the woman in labour. When a child is in spasms of whooping cough Cat's Eye is tied to its neck to provide relief. Cat's Eye can bring a fortune. It counters ill-effects caused by the envy of others.