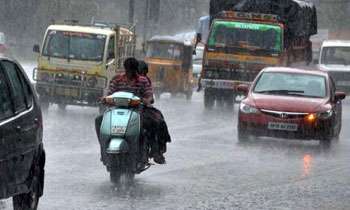 Heavy rainfall exceeding 150 mm are forecast at some places in the Northern and Eastern provinces while falls of about 100 mm can be expected in other places, the Disaster Management Centre said today.
The wind speed will be around 30 to 40 kmph oversea areas around the island, while the wind speed can increase up to 50-60 kmph at times over the deep sea areas extending from Kankesanturai to Galle via Puttalam, it was forecast.
"Temporary strong gusty winds (up to 70 or 80 kmph) and rough seas can be expected during thundershowers. Another low-pressure area is likely to develop over the Andaman Sea and adjoining Southeast Bay of Bengal during the next 48 hours. It is very likely to move west-northwestwards and intensify further subsequently. Fishermen are advised to be vigilant in this regard" the DMC said.
Meanwhile, the Department of Meteorology said the Batticaloa District has experienced a rainfall of 340 mm while Jaffna and Badulla experienced a fall of 30 mm 23 mm respectively during the 24 hours that ended this morning. (Yohan Perera)