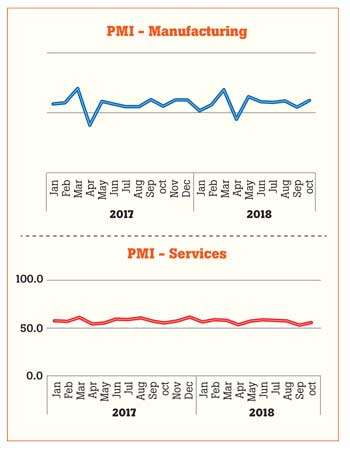 Sri Lanka's manufacturing and services activities expanded during the month of October, according to SL Purchasing Managers' Index (PMI) compiled by the Statistics Department of the Central Bank.

The manufacturing sector PMI value in October rose to 58.2 points, from 54.1 points in September, with all the sub-indices of the manufacturing PMI recording values above 50 points. The index value over 50 points indicates growth. "The improvement observed in manufacturing activities in October was mainly driven by the improvement in new orders and production, especially in manufacturing of food and beverages activities, led by the positive outlook with the seasonal demand.
Even though the employment in the manufacturing of food and beverages activities has improved with the seasonal trend, overall employment slowed down. This was mainly evident in manufacturing of textiles, wearing apparels, leather and related activities, due to the difficulties to find employees in the market," the Central Bank said.
The global manufacturing PMI value for October was 54.1 points, a decrease of 0.1 index points from September, signalling that global manufacturing growth slowed down in October.

Meanwhile, the services sector PMI value in October rose to 55.5 points, from 53 points in September, outpacing the global growth of 53.4 points.

"The services sector expanded at a higher pace in October, underpinned by a strong upturn in business activities, expectations for activity and new businesses," the Central Bank said.

The expansion in business activities was seen mainly across financial services and transportation and warehousing sub sectors.

However, the respondents cited that the depreciation of the local currency had an adverse impact on import volumes and thereby on their activity growth.
New businesses also expanded across financial services and professional services sub-sectors.

Employment levels expanded at a higher rate in October owing to the expansion in business activities.

"Service providers' optimism on the three months business outlook strengthened in October 2018 due to the upcoming festive season and the peak season for tourism.

However, the respondents raised concerns over the current political situation and the weakening of the domestic currency, which could moderate the realisation of expectations," the Central Bank said.