---
The death anniversary of K.V.S. Vas, reputed journalist and former Chief Editor of the Express Newspapers of Ceylon Limited (Virakesari) is observed on August 30. Vas was born in Kumbakonam in Madras. On the successful completion of his MA Degree, he moved to Sri Lanka in 1933 and joined Virakesari as a translator.
On account of his hard work, honesty and efficiency he was promoted as News Editor in 1944 and in 1959 rose to the position of Editor-in-Chief. Due to his high degree of discipline combined with the loftiness of his character and versatility of his intellect, he edited the newspaper and delivered it to readers.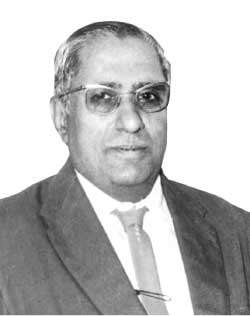 Vas was a man of action and a powerful editor. No field of human endeavour was left untouched by the amplitude of his imagination. His work encompassed his thoughts and his words showcased the indefatigable zeal of his action. He had a forceful and facile style of working and his penetrating observations of men and matters made him one of the foremost writers during his time. His love of news made him seek employment in the editorial of this newspaper in the capacities of translator, reporter, sub-editor, news editor and finally Editor-in-Chief. His creative and imaginative skills soon asserted itself and he wrote a serious of novels and short stories under the pen names Val Miki and Rajani. The introduction of fiction in serial form then, was something entirely new to the Sri Lankan media.
Successive editors found Vas to be a tower of strength. In appreciation of his ability, he was appointed as Acting General Manager for a short period. Throughout his career at Virakesari, he maintained warm and cordial relations with his counterparts in sister newspapers. Vas possessed a strong personality and had sufficient confidence in his ability to excel during debates. He wrote a history book namely Eelaththin kathai. The special feature of this book is that its contents were serialised in the weekly magazine Ananda Vikatan in 1956. He had written over 45 fictions and thousands of articles on various subjects. His works were published in 14 books.
Vas retired from service in 1975 as Editor-in-Chief serving in the post for more than 15 years. In total he counted 40 years in the field of journalism and served in different capacities. Even after retirement, he continued to work as Ceylon Correspondent for 'The Hindu' and also for a Malaysian newspaper. He had also contributed several articles to The Daily News and had written two history books; the first which was Kandy Arasi (Queen of Kandy). He was a fine human being, kind and compassionate. Further, he was a multi-faceted and multi-dimensional personality who had the ability to understand another person's feelings.
As a journalist, he dealt in different subjects. His energy was astounding and effortlessly understood problems quickly. He had an astounding intellect and supreme self-confidence with a dash and dynamism thrown in to it. Indeed, he was a remarkable editor who reigned and never ruled.