---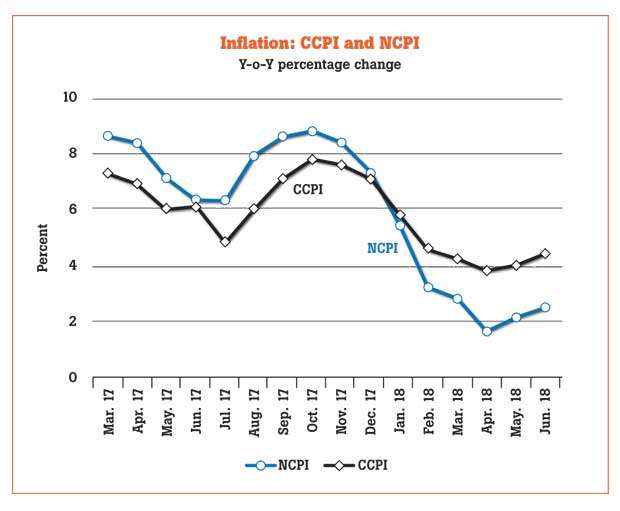 Sri Lanka's inflation measured by the Colombo Consumer Price Index (CCPI) accelerated to a six-month high of 5.4 percent during the 12 months to July, up sharply from 4.4 percent in June, largely due to the base effects and higher food prices.

Sri Lanka's inflation mostly hovered in the mid-single-digit levels so far this year, easing from the high-single-digit levels most of last year, mainly due to the supply-side disruptions caused by the prolonged drought and floods, which destroyed most of the key crops. After easing to 3.8 percent this April, from a high of 5.8 percent they reached in January, the prices have again been on a rising trend.

Meanwhile, on a month-on-month (MoM) basis, the headline inflation expanded by 0.3 percent.
While the prices of many staples such as rice and coconut have come down in July, the prices of sea fish, vegetables and some varieties of fruit increased, bringing the total food price index up by 0.9 percent in July from June. Some economists think the slow movement in food prices in July could be due to the slowdown in demand after the higher prices in the previous month and the uptick in supply due to the receding rains that hit the crops.
However, the food price index has accelerated by 5.6 percent during the 12 months to July, from 2.9 percent in June.

Meanwhile, the so-called core prices, which measure the movement in prices barring volatile items such as food and energy, have risen in July by 3.9 percent YoY, up from 3.4 percent in June.

Meanwhile, surprisingly the non-food inflation rose by just 0.1 percent MoM, easing from 1.1 percent increase in June on MoM.

The easing in the non-food prices has mainly come from the reduction in the administered price of LP gas in July, followed by a reduction in doctor consultation fees during the month.

The Central Bank wants to maintain the headline inflation in mid-single-digit levels and the bank is well on track towards that goal but the potential fiscal loosening could disturb that process.

The Central Bank stands ready to tighten the monetary policy should it requires to lean against any fiscal excesses to maintain its inflation target, the Central Bank has said earlier.