---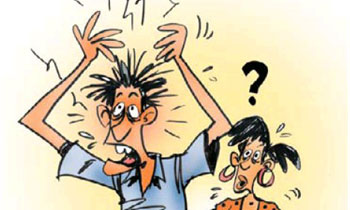 A person was hospitalized for allergy caused by the application of some hair-dye by his wife when she tried to show off her skills as a beauty culturerist.
She was a mother of two children. She had been interested in beauty culture. That is the reason why she followed a beauty culture course. With the passage of time, she learnt how to blacken the white hair as well with the understanding that it would be beneficial to her and her husband in future.
On a Sunday, when she and her husband were watching television, she suggested her husband to bring some hair dye, to be applied on his hair. He hurried in his a motor cycle and brought a hair dye packet . Then, his wife applied it on his hair. However, when his wife began to start the hair care, she began to scream at the top of her voice when her husband's neck and ear area began to irritate with a burning sensation.
Their neighbor who rushed to the scene advised her to send her husband to the hospital. The doctors, who diagnosed the disease, came to the conclusion that the dye used for hair had become allergic. (Viyaluwa correspondent)