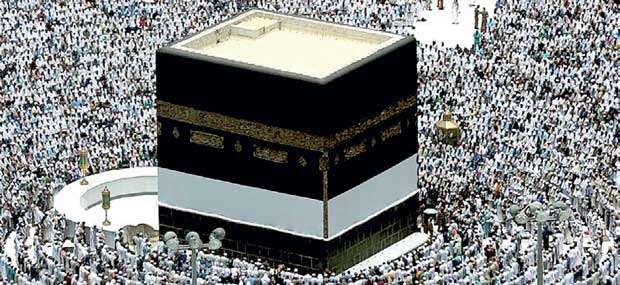 It is noteworthy that Hajj, the pilgrimage to Islam's holiest site, Mecca, is celebrated annually by all Muslims around the world. It is commemorated to mark the sacrificial life of Prophet Ibrahim (PBUH) and his family. Let us research such a sacrificial life through Al-Quran:

Prophet Ibrahim (PBUH) wedded Hajara (RA), but Allah tested them by not giving a baby. However, when the prophet invoked blessings from the Almighty, he was blessed with a baby boy though at the age of 80.

Prophet Ibrahim (PBUH) and his wife named the baby boy Ismail. Once, Hajara (RA) was in Mecca with her son and when he cried in thirst, she ran between Safa and Marwa mountains in search of water. Spotting a mirage, she rushed towards it, but there was no water. She was fooled. Similarly, she ran seven times between these mountains until the boy dipped his toes on the soil and water miraculously gushed from the ground, continuously. Hajara (RA) uttered, "Zam Zam" (Stop! Stop!). Thereafter, they both quenched their thirst from the sacred water, which was then called Zam Zam water.

Once Prophet Ibrahim (PBUH) had a dream of slaughtering his son. The dream repeated for three consecutive days. He deemed it a divine order. He discussed this with his wife and son, and they agreed. Prophet Ibrahim (PBUH) asked his beloved son if he could tie him with a rope and hang him upside down for slaughtering. The brave son said there was no need for such. Prophet Ibrahim (PBUH) tried to sever his son's neck, but the knife didn't permit him. He then threw it away, only for the knife to split a rock into two halves. The knife then said to him that God did not give it permission to decapitate his son's neck. And then, Angel Jibreel descended from heaven with a sheep by reciting 'Takbeer.' He conveyed the message of God; that his obedience and efforts were lauded. It was indeed a great test of Allah.
Hajj pilgrims should wear 'Ihram' (unstitched white cloth) to show simplicity and unity. They should perform certain rituals during Hajj. Upon completion of them, pilgrims should visit the 'Raudha Shareef' (tomb) of Prophet Muhammad (PBUH) and 'Jannatul Baqi' (cemetery) in Medina and stay there for eight days.
It is believed that the sins of those whose Hajj pilgrimage is accepted would be wiped away. Therefore, if we have the means of going on this pilgrimage, we should. May Almighty Allah give all Muslims the opportunity to perform Hajj!