---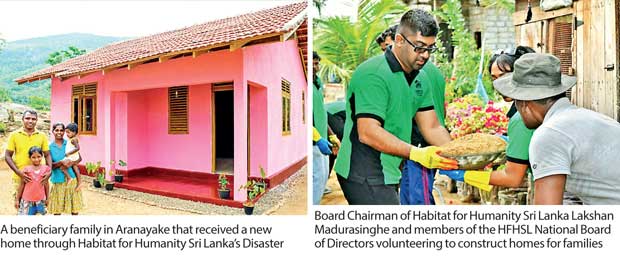 Habitat for Humanity Sri Lanka (HFHSL) President and Chairman of the National Board of Directors Lakshan Madurasinghe's unique Habitat journey started with him volunteering at a Habitat Build event, and thereafter led to over a decade long partnership with HFHSL.

Today, a key member of HFHSL's leadership team, Lakshan not only continues to volunteer whilst encouraging hundreds of others to do so as well, he has applied his corporate, PR and management expertise to shape the vision and mission of Habitat for Humanity Sri Lanka, and aid its ongoing commitment to providing homes for families in need across Sri Lanka.

Habitat for Humanity is on a mission to forge more partnerships with like-minded individuals, corporates, organisations and donors that will enable them to reach more communities and provide safe and decent homes to more families in need across Sri Lanka under the theme of 'Partnerships with Purpose'.

In keeping with this theme, Habitat is committed to enhancing its corporate engagement through partnerships with corporates who are interested in implementing corporate social responsibility (CSR) projects that focus on housing and providing adequate sanitation facilities for vulnerable communities across the country. Habitat Sri Lanka is particularly looking for support from the corporate sector for its newly launched 'Homes for Hope Campaign', which focuses on constructing homes and sanitation facilities for families that are battling disabilities, special needs, or chronic illnesses such as Chronic Kidney Disease and Leprosy.

Additionally, towards fostering volunteerism within the corporate sector, Habitat for Humanity Sri Lanka has also launched its 'Corporate Team Builds' programme which offers corporates the opportunity to have their staff volunteer at a Habitat build site on a one-day build where they will provide their unskilled labour to construct a home for a family in need. Very often corporate teams opt to invest in high-end training and out-bound team building exercises for their staff; however Habitat Sri Lanka offers a unique alternative to those types of typical out-bound training programmes through its 'Corporate Team Builds' programme.

Unlike any other volunteer experience, Habitat's volunteers get hands-on construction experience building a home with their teammates and also have the satisfaction of knowing that their generosity and hard work resulted in a family in need being blessed with a place to call home.
Commenting on this further, Madurasinghe said: "At HFHSL, you get to do more than just donate money to a cause. The beauty of volunteering with Habitat is that you get to be a part of changing people's lives. An additional benefit is that the results of your team work will be extremely tangible and will have a positive impact on multiple generations. It's a great way to give back to communities and do something truly meaningful with your work colleagues. I invite all corporates to join us in our mission to provide everyone in Sri Lanka a decent place to live."