---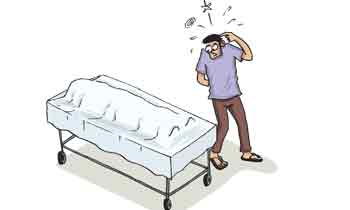 A man who helped to get a sick man admitted to hospital had to finally accept his body after the patient died and the deceased's wife refused to accept the body.
Warakapola Police said the deceased was identified as Gangodawila Arachchilage Shantha Kumara (58).
He had been engaged in shoe repairs in Warakapola town but nobody had helped him when he was indisposed and took shelter in the Warakaopola bus stand.
A passerby named Mukan Alagiri Gunalan had seen him and taken him to the hospital. After several days he had died and he was informed by the police to accept the body as the wife of the deceased had declined to accept it.
The man was compelled to bury the body at the Ambepussa, Warakapola general cemetery at his own expenses. (Ruwan Pathirana, and Jayaratna Willara)