---
It is with a sense of deep sadness I write about my loving wife Victoreen. M. Hassan. We spent a happy and peaceful wedded life for almost 40 long years and Victoreen passed away peacefully on August 25, 2008, after a brief illness. Vicky, ten years have passed since I lost the light of my life.
Although you cannot hear my voice or see my smile, no more you will walk beside me still just as you did before. Vicky, I feel the love you had for me and hear you in my heart, even though you left your human vessel your soul will never part. Your gentle loving, admirable, qualities, and sincerity were evident at the crowds that thronged at your last journey.
It broke my heart to walk beside you on that fateful day. I think of you in silence and often speak your name... Victoreen.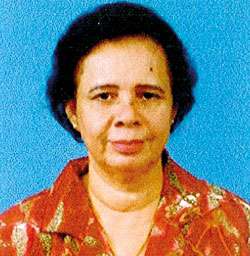 Now all I have are memories and a photo in a frame. Your memory is a keepsake, from which I will never part. Today, tomorrow and forever my whole life through, I will always love and cherish you. In secret I weep, in silence, I cry, as each lonely day passes by.
There is only one thought that eases the pain and its knowing we will be together again. Loving thoughts till the end of a time of a wonderful wife I am proud was mine.
For all, you gave me and our children through the years, your time and love your prayers and tears, your patience, caring, and sharing is still a memory. For all this and more I STILL LOVE YOU.
God's hand touched you and took your last breath, closed your eyes and slipped away to the land of no more pain.
Vicky, God has taken care of you so you don't have to be afraid. The pain I feel losing you will never go away from my mind. Your loving smile, your gentle face no one can fill your vacant place.
You meant the world to me and I really loved you so. Each night I shed a silent tear as a message to you in prayer to let you know that I love you Vicky, and just how much I care for you.
Thank you for your endless love, that helps through each day. You're the wife I loved, and I was proud to be your husband and every day in a small way I celebrate your life.
Finally, thank you Victoreen for the wonderful and generous sacrifices you made for me, our children, and all the loving care and affection you showered on us. I remember not what I did for you, but I was for you, and what you were to me. Thank you for loving me and being what you were.
Darling Vicky, our special years will not return, when you were with me together, but love within our hearts you will walk with me together.
Till we meet again,
Sadly missed by your loving husband
M. Kamil. A. Hassan