---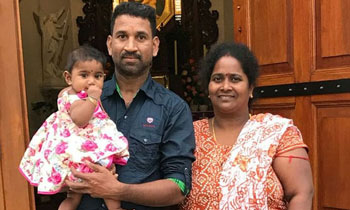 A Sri Lankan asylum seeker family in Australia had been pulled from a plane overnight just minutes before they were due to be deported, the Sydney Morning Herald reported on Wednesday.
The border force officials had removed Nadesalingam, Priya and their two Australian-born daughters from Biloela last week and put them in a Melbourne detention centre.
Tamil Refugee Council spokesman Ben Hillier said they were handcuffed and taken in separate vans to Melbourne Airport on Tuesday, flown to Perth and placed on a flight to Sri Lanka.
However, a last-minute legal intervention had resulted in them being removed from the plane before it took off.
It was reported that the couple had come to Australia separately by boat in 2012 and 2013, following Sri Lanka's civil war.
They have settled in Biloela on a bridging visa, which has since expired.
Mr. Hillier said the family feared Nadesalingam would be persecuted if he returned to Sri Lanka because of his history with the LTTE.
The removal of the family from the small Queensland town had shocked the community and that they have decided to take action to bring them back.
A Department of Home Affairs spokesman said the family's case has been assessed over many years.
"They have consistently been found not to meet Australia's protection obligations," he said.