---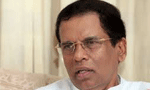 The common opposition, fielding Maithripala Sirisena as its presidential candidate, recently pledged to replace the current consumption-led economy with a more sustainable manufacturing-led model.Sri Lanka skipped industrialization, trading for an easy service economy, which currently accounts for 59 percent of the country's Gross Domestic Product (GDP). This has made the country import-dependant even on certain basic necessities.

"We must have a production-led growth strategy rather than a consumption-led growth strategy," stressed UNP Member of Parliament Eran Wickramaratne, when the common opposition met with Sri Lanka's business community last week.He said the existing consumption-led, import-driven growth strategy is not sustainable and stressed the significance of bringing, "a second generation of structural reforms", in order to increase competition, productivity and innovation.


Wickramaratne was also of the view that Sri Lanka is not a factor-driven economy but an efficiency-driven one, and stressed the significance of investing in education and Research and Development (R&D).Common opposition pledged financial allocation of at least 6 percent of GDP to education, a number demanded by the countries academia for several years.The incumbent government spends a paltry 1.6 percent of GDP on education but the defence expenditure has risen 26 percent in 2014 after 6 years into the end of the war.


Meanwhile, the opposition and UNP leader Ranil Wickremesinghe asked the business community to be prepared for overreaching structural reforms in the economy post January 8.Echoing the sentiments of many economists, Wickremesinghe said it was time to shift the gears into soft infrastructure development from the mega development projects built on borrowed money from foreign sources.


Wickramaratne said people are leaving for greener pastures expecting high paying jobs, creating a dearth of quality labour. At present there are at least two million Sri Lankans working abroad.Meanwhile Wickremesinghe, probably identifying the needs of the fast emerging aspirational society in Sri Lanka, pledged to create at least one million high paying jobs in 5-years."Everyone is thinking of concrete (hard infrastructure). Our first priority is investing enough in soft infrastructure.


We don't have enough people to run Information Technology businesses. We haven't got enough engineers. We also don't have middle-level managers. We don't have enough technicians," Wickremesinghe said.He asked how a country could develop sophisticated industries such as pharmaceuticals and nano-technology without investing on R&D, education and IT.He also said that nobody would want to work in those sectors if they aren't paid handsomely.Speaking on the ongoing financial sector consolidation, Wickramaratne said while they were not against such a program it must not be forced by the government but should be driven by shareholders.