---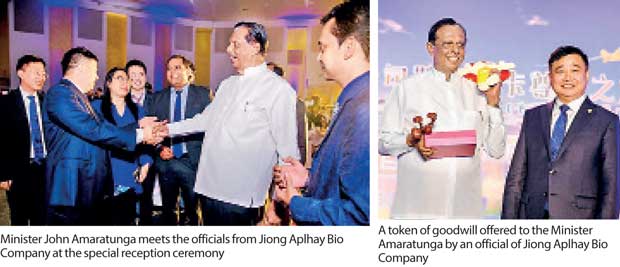 Ceylon Roots (Private) Limited, together with the Sunflower Travel Company of the People's Republic of China, created history by hosting one of the largest incentive groups from China for a week in Sri Lanka.

The tourist group comprised of the best performing sales force of Jiong Aplhay Bio Company of China which is renowned to be the largest mushroom manufacturing and distributing company in the world. Over the last 15 years, Jiong Aplhay Bio Company has been taking their best performing employees to Malaysia on incentive tours. However, this year, Ceylon Roots managed to convince Jiong Aplhay to send their delegates to Sri Lanka.

During their stay, the team explored some of Sri Lanka's historically and culturally-rich tourist attractions. The group visited the cultural city of Dambulla, Kandy, Colombo as well as the Southern coastal strip. They were warmly welcomed at a special reception and gala dinner which was held at the Bandaranaike Memorial International Conference Hall (BMICH). Tourism Minister John Amaratunga graced the occasion as a special guest. In his address to the gathering, the Minister extended his gratitude to Ceylon Roots for their outstanding effort and contribution towards the Sri Lankan tourism sector through strengthening partnerships with thriving markets such as China.

Commenting about the economic impact of the visit, the Director of Ceylon Roots,

Nishantha Perera revealed that the total package was worth over US $ 1.2 million, whereas the guests have spent an estimated equal amount on recreational activities in the island. The Chief Executive Officer of Ceylon Roots, Dishan Perera, elaborating about the significance of hosting the enormous tour group said, "We are truly happy that we were able to convince Jiong Aplhay to break their 15-year tradition and choose Sri Lanka over Malaysia. The response we received from the Group is heartwarming and we are delighted that they enjoyed their stay in Sri Lanka and concluded a very successful and a
memorable tour".