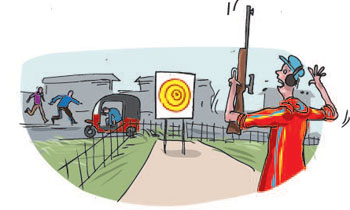 A three-wheel driver who was travelling got a nasty surprise when he was travelling along the Badulla Road in Nuwara-Eliya when a bullet of an air-rifle shot from a leisure park nearby struck him behind the ear. The mishap occurred at about 6.00 in the evening on Saturday (23). He was immediately rushed to the Nuwara-Eliya General Hospital.
The bullet had come from a air-rifle fired from Gregory Park by a person indulging in the sport for fun.However he had missed his intended target by some distance and the bullet had ended up hitting the unfortunate 3-wheel driver who had been approximately 30 metres away from the shooting range at the time. He was identified as Pradeep Warnasuriya.
Doctors said a minor surgery was needed to remove the bullet from the victim's neck.
After receiving a complaint about the incident OIC of the Nuwara-Eliya Police Nishantha Pradeep Kumara arrived on the scene and took the person in charge of the rifle range from where the bullet was shot into custody. (Shelton Hettiarachchi)