---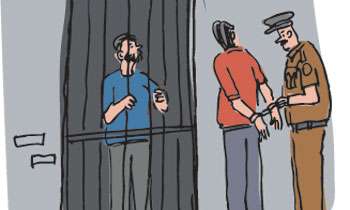 There were two bosom buddies who ate, drank and went on trips together. But sadly, they also got addicted to heroin together.
With the passage of time, some other drug addicts also joined them in the same way that garbage joins the garbage dump. These two buddies were residents of Talatuoya.
One of the friends was unlucky to be checked by a passing police petrol from the Talatuoya Police. He had 30 milligrammes of heroin on his person when he was checked and was taken into custody.
"Machan, your bosom buddy has been arrested with heroin on him by the police", a mutual friend who witnessed the scene reported to the other member of the twosome.
"If you are going to see him, take him his 'fix',"the mutual acquaintance advised him.
He took the advice and went to see his 'buddy' taking with him 30 milligrammes of heroin to give him as a 'gift.'
Unfortunately, the police were one step ahead of them and nabbed him as well just as he was handing over the 'fix' to his buddy. (T.M. Sarath)