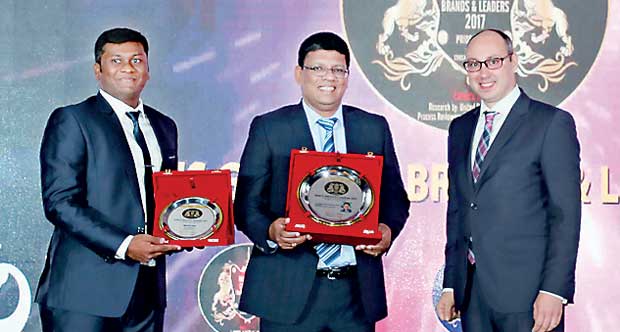 From left: Blue Ocean IT and Brand Head K. Nimeshanan, Blue Ocean Group Chairman S. Thumilan and Ambassador Extraordinary and Plenipotentiary in Singapore, Ukraine Dmytro Senik
Blue Ocean Group and its leadership were duly recognised with top international honours yet again when the group was recognised as one of Asia's greatest brands under the Emerging Brands category.

Group Chairman S. Thumilan was selected as one of Asia's greatest leaders at Asia's Greatest Brands and Leaders 2017, award ceremony held at the Marina Bay Sands Hotel, Singapore on January29th2018.

Asia's Greatest Brands and Leaders is an annual event, organised by the Asia One magazine and United Research Services (URS) to select from Asia's 100 greatest brands and their leaders. The selection was made through an intensive research done among 16 industries, 52 sub industries in seven Asian countries. The programme is reputed for its credibility and transparency as the entire process was executed under the review of the renowned Price Waterhouse Coopers (PWC).

"It is indeed a great honour for us to be recognised as one of Asia's greatest emerging brands as picked by independent bodies of experts through an extensive research to recognise 100 greatest brands in Asia. We are greatly appreciative of this honour bestowed on us as it affirms our strengths are focused in the right direction as a sustainable business organisation. Blue Ocean Group was founded eight years ago on a unique business philosophy:'To innovate through our own style of quality', and since then we are glad to see that our philosophy and commitment yielding good results," said Blue Ocean Group Chairman S. Thumilan after achieving the award as one of Asia's Greatest Leaders.

Founded with the objective of celebrating the emergence of Asia as the fastest growing economy and a world growth engine, Asia's Greatest Brands and Leaders has created an unprecedented platform of excellence for the 100 leading brands of Asia. The top 100 brands are recognised under the three categories of Iconic, Powerful and Emerging. The research and editorial team of Asia One magazine, together with URL Media Consultancy and an independent jury panel of government and industry experts from Asia and Middle East conducted an intensive research with well over 5000 companies, across seven countries to identify the greatest brands and their leaders.

"Asia's Greatest Brands and Leaders is a transparent research based list that delve into the history of brands, understand the driving force within them before putting them on the pedestal for recognition. The entire process is executed under the supervision of reputed Price Waterhouse Coopers and that makes this achievement special for us. At Blue Ocean we share one vision as 'one team' and the credit of this achievement should therefore go to each and every member of our staff. I also wish to thank our clients for their great support which was vital for our success," Thumilan further added.

Blue Ocean Group's proven excellence is attributed to the group's emphasis on innovation, strategy and sustainable growth. As a 100 percent Sri Lankan company, the group possesses the experience, technical expertise, manpower and financial strength to carry out all types of construction projects.

The group consists of 50 subsidiaries dealing in several fields such as , construction and engineering, architectural and engineering consultation, facilities management, education, apparels, logistics, advisory, entertainment, travel, concrete mixture manufacturing, carpentry, aluminum fabrication, imports of building materials, home appliances and heavy equipments. The group has been a dominant force in the growth of Sri Lanka's construction sector, handling a wide variety of projects from condominiums and commercial projects to government projects.

The group's construction arm, Link Engineering is one of the pioneering construction companies in the country with a history of well over four decades and has a series of achievements to its credit. Link Engineering, supported by its sister companies namely Link Ready-mix, Link Aluminium, Contessa and Sisira Builders is currently handling over 35 condominium projects and government funded projects.