---
Latest research studies reveal that this condition can give rise to Parkinson's disease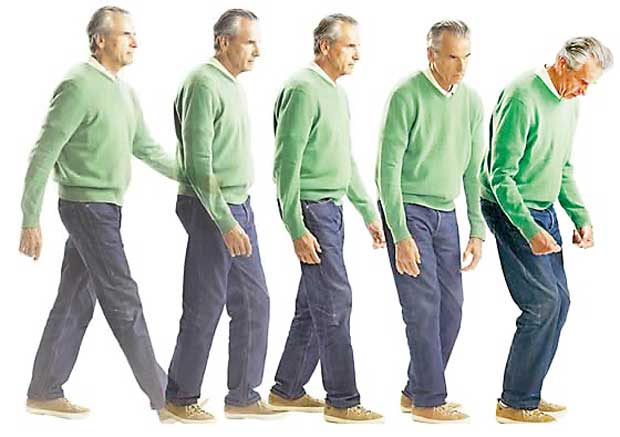 Parkinsonism is a general term which refers to a set of neurological disorders which cause problems related to the movement similar to Parkinson's disease including Bradykinesia (slowing with degradation of repetitive movements), stiffness and tremors. Even though subtle, tremors and bradykinesic movements can be commonly seen among elderly people. Features in Parkinsonism tend to be non-specific and exaggerated.

As far as the etiology of Parkinsonism is concerned, Parkinson's disease is so far the commonest neurodegenerative cause (80% of affected cases) where multiple system atrophy, progressive supra-nuclear palsy and cortico-basal degeneration are also known to play important roles and therefore referred to as atypical parkinsonism or Parkinson-plus syndromes. These Atypical Parkinsonism has a worse prognosis compared to that of the typical one and do not respond well to dopaminergic medications.

Symptomatic Parkinsonism can also occur due to various secondary causes such as vascular conditions, drugs, infections, toxic agents and structural anomalies of central nervous system. Drug-induced Parkinsonism is known to be the commonest condition of all types and caused by various antipsychotics, anti-emetics and sodium valproate. Vascular Parkinsonism also known as arteriosclerotic pseudo Parkinsonism is characterized by an emphasized lower body, disturbances in gait and concomitant impairment of cognition.

Even though there is no clear-cut method of diagnosis available for Parkinsonism, revealing the possible etiology plays a very important role in treating Parkinsonism.

If it is drugs, the dosage should either be altered or replaced with an alternative with less side effects. Additionally, lifestyle modifications such as regular exercises, physical and occupational therapy, prevention from falls should be taken into consideration while taking care of affected individuals.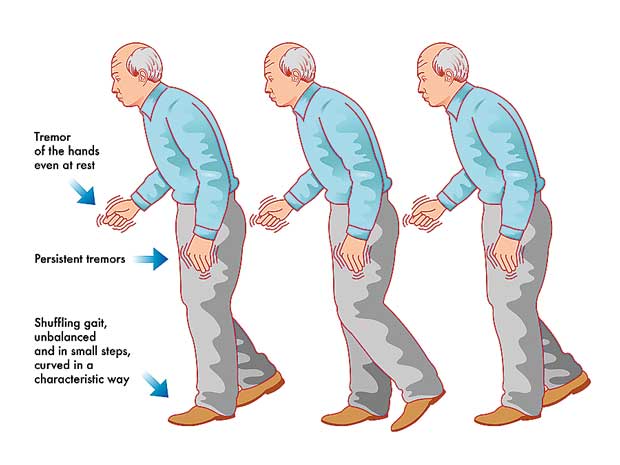 What is Parkinson's disease?
Being the commonest neurodegenerative cause of Parkinsonism, Parkinson's disease is defined as a clinical syndrome characterized by lesions in the basal ganglia which mainly involves the degeneration of Neuro melanin-containing neurons in the brainstem particularly in the region of
Substantia Nigra. The root cause of Parkinson's disease has been identified to be multifactorial with the involvement of factors such as heredity, positive family history, environmental toxins and advanced age. This condition usually occurs between the ages 40-70 with a peak incidence in the seventh decade of life.

The major clinical picture of this condition includes resting tremors, rigidity, stiffness, Akinesia and dysfunctional postural reflexes where all these symptoms and signs are known to be gradually worsening over time. Other non-motor features may include depression, loss of smell, gastric disturbances and cognitive changes.

A definitive diagnosis of Parkinson's disease can be made only at an autopsy by the identification of the presence of degenerative changes in the brain stem and Lewy bodies predominantly in Substantia nigra.

Even though, there is no permanent cure for Parkinson's disease, symptoms can be improved with various medical and surgical interventions.

The most popular medications used in affected individuals include dopamine agonists, inhibitors of catechol-0-menthyltransferase (COMT) and monoamine oxidase type B (MAO-B) inhibitors whereas major surgical interventions available include Pallidotomy, chronic deep-brain stimulation (DBS) of the subthalamic nucleus (STN) and Globus Pallidus Internus using an implantable pulse generator (IPG).

Finding a clear-cut line of demarcation between Parkinsonism and Parkinson's disease
Parkinson's disease is considered to be the commonest neurodegenerative cause of Parkinsonism accounting for more than 80% of the identified cases. Since there is no definitive diagnosis for both these conditions, it is advisable to check the history of the individual and pay attention to the clinical features and progression of the disease over time. Parkinsonism is a comparatively rapidly progressive condition than Parkinson's disease with additional features like hallucinations, delusions and dementia.

As far as treatment is concerned, Parkinsonism is known to be taking a longer duration to respond or does not respond at all to the treatment with Levodopa (Dopaminergic therapy), compared to that of Parkinson's disease.

Latest news
Latest research studies have found that excessive calcium levels in the brain cells have a chance of forming toxic clusters which play the hallmark of Parkinson's disease.

The international team led by University of Cambridge, after carrying out several studies has come to a conclusion that calcium itself can mediate the interaction between small membranous structures inside nerve endings, which are known to play a major role in neuronal signaling of the brain and alpha-synuclein, the protein associated with Parkinson's disease.

"There is a fine balance of calcium and alpha-synuclein in the cell and when there is too much of one or the other, the balance is tipped and aggregation begins, leading to Parkinson's disease" says co-first author Dr. Amberley Stephens.

Therefore, according to those scientific studies, excess levels of either calcium or alpha-synuclein might be what initiates this chemical chain reaction, which results in the gradual death of brain cells which would ultimately give rise to Parkinson's disease.

After all, this newest finding about the role of calcium and alpha-synuclein in physiological or pathological processes will for sure help in the formation of brand new modalities of treatment for Parkinson's disease like for an example patients who are on calcium channel blockers for certain heart diseases would develop a potential resistance against
Parkinson's disease.