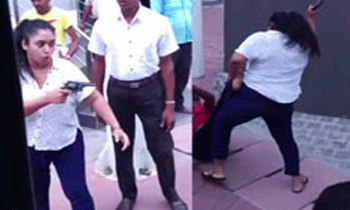 Southern Provincial Councillor M.K Kasun and his wife Tharaka Perera, who were arrested by the Police for allegedly assaulting a private bus driver at Koswatta yesterday, were remanded till March 13, by the Kaduwela Magistrate today.
The couple allegedly assaulted the driver accusing him for blocking the way of the vehicle of the PC member at the Koswatta Junction.
The bus driver of a 177 Kaduwela-Kollupitiya bus had been admitted to the Mulleriyawa Base Hospital.
A video circulating on the social media shows that Ms. Tharaka Perera brandishing a pistol and assaulting the bus driver.
The Police arrested the couple on the spot with a 9mm pistol and five live bullets in their possession.
It was reported that the apprehended M.K Kasun was the son of former SPC member M.K Ranjith (Chandi Malli) who was shot dead in Colombo few years ago as a result of underworld clash.