---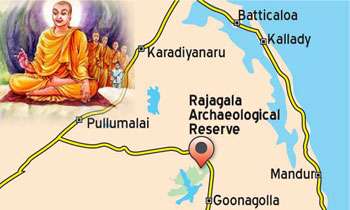 Archaeologists from the University of Sri Jayewardenepura, who are in charge of the Rajagala Archaeological Reserve in Ampara have confirmed that it was there that the ashes of Arahat Mahinda were enshrined, Vice Chancellor Sampath Amaratunge informed the media.
The team of archaeologists from the Department of History and Archaeology of the University of Sri Jayewardenepura, was headed by the department head and eminent archaeologist Prof. Prashantha. B. Mandawala.
An agreement was signed between the Director General of Archaeology and the Vice Chancellor of the Sri Jayewardenapura University in September 2012 handing over the project to the Department of History and Archaeology of the university. The Jayewardenapura University team in Rajagala is assisted by a group of Indian archaeologists led by internationally acclaimed archaeologist Professor Vasant Shinde, who is the Vice Chancellor of Deccan University, Pune. Professor Shinde who is better known for his extensive research on the Harappan civilization is reportedly of the opinion that Rajagala site deserved to be recognized as one of the world heritages through UNESCO.
While there's an inscription among Rajagala ruins stating that the ashes of Arahat Mahinda and Venerable Ittiya who accompanied him to Sri Lanka, were enshrined in a stupa there, an extensive process of excavation begun only after the site was handed over to the university. Spread over 1600 acres, the Rjagala Reserve consists of more than 600 historic ruins and artifacts and it is believed that nearly one hundred of them are Stupas. Among the ruins is a 1.6 km long stairway as well.
The main objective of the Jayewardenapura University project is to preserve the architectural remains and the cultural landscapes of the ancient meditation monastery of Rajagala by preventing the deterioration processes and revitalizing the ancient character of a forest monastery. Plans are also underway to develop the site as a Spiritual and Ethical Development.