---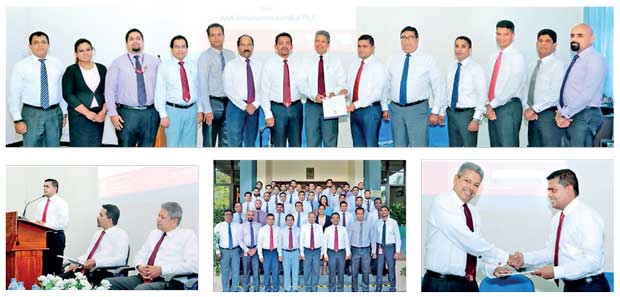 AIA Sri Lanka Academy is proud to announce the inauguration of 'The Executive Development Programme' (EDP) at the Post-Graduate Institute of Management (PIM).

This is a programme designed especially for the Internal Sales Management Staff of AIA Insurance. The inaugural batch of this programme saw 15 of AIA's Provincial/Zonal Sales Managers of the agency channel and 25 Sales Managers/Executives of the Bancassurance channel commence a 10 module course spanning the year, at the esteemed PIM.

AIA CEO Pankaj Banerjee said: "We are excited to take AIA's Sales Managers to the next level. Armed with an advanced, specialised professional qualification from an esteemed institute, our Sales Managers will be the best in the industry. This course is intended at not only empowering our internal sales management staff but also helping them learn, grow and discover the best
in them."

AIA Sri Lanka Academy Associate Director Dimuthu Piyasena noted: "The course embraces an interactive learning approach which focuses on enhancing personal excellence, effective communications, emotional intelligence, public relations and negotiation skills, while also dealing with change management, strategic management, best practices in management, personal finance and marketing essentials. With a cadre of well-respected lecturers and industry professionals, this course facilitates the creation of a new calibre of Sales Managers."

PIM Director Prof. Ajantha S. Dharmasiri said: "We are happy to join hands with a well-respected company such as AIA and to play an integral role raising the bar, in the field of insurance sales management, in the country. PIM will provide the best learning experience to AIA sales managers in the journey of personal and team mastery."

PIM Management Consultant Samantha Rathnayake highlighted: "The PIM's executive/management development programmes are designed, keeping in view the ever changing demands on business/professional executives. The programme content is constantly reviewed and changes made on a continuous basis based on clients' demands." The AIA Sri Lanka Academy, the first of its kind, is intended at creating diverse learning experiences for all stakeholders of life distribution. It aims at enhancing individual and organisational effectiveness towards AIA's journey of becoming the pre-eminent Life Insurance provider of Sri Lanka.