---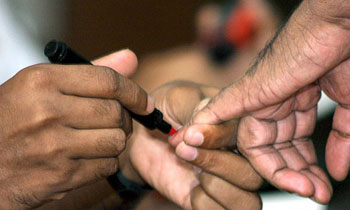 Nearly 15.8 million voters will cast their votes today to elect 8,356 members to 341 local government bodies in a nationally important and decisive election to be held in Sri Lanka's recent political history.
This election is the first-ever local government polls held under the new electoral system in the wake of the enactment of the Local Authorities Elections (Amendment) Act No.22 of 2012, which was the outcome of the recommendations of an all-party parliamentary select committee chaired by parliamentarian Dinesh Gunawardana.
Nominations were received in two stages after several civil society activists filed objections to the delimitation report.
It resulted in nominations being received to 93 LG bodies from December 10 to 14 and for 248 LG bodies on December 21. The final tally stood at 2,076 nomination lists submitted by political parties and independent groups being accepted and 52 nomination lists being rejected.
On the basis of the accepted nominations lists, 15,760,852 registered voters will mark their choice from among the 57,252 candidates from 43 political parties and 222 independent groups who will be vying for 341 LG bodies comprising 24 Municipal Councils, 41 Urban Councils and 276 Pradeshiya Sabhas making a total of 341 LG bodies made up of 8,356 slots in 4,913 wards.
Some 560,020 eligible voters have been registered to vote by post on January 25 and 26. The election secretariat has set up 13,374 polling centres which will also be used to count votes and declare the results. It has also deployed 175,000 public officials on election duty.
The relatively peaceful election campaign ended on Wednesday midnight with the major political parties -- the UNP, the SLFP, the JVP and the SLPP focusing on corruption, financial and administrative mismanagement and the economic crisis as their main slogan during the campaign. Meanwhile, Police spokesman Ruwan Gunasekara said all precautionary measures had been taken to ensure a free and fair election with the deployment of 65,758 police personnel including STF personnel.
The voting begins at 7.00 am and ends at 4.00 pm. (Sandun A Jayasekera)