---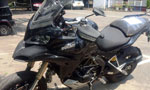 A high-end, high powered motorcycle worth over Rs.4 million, which had been smuggled into the country under the patronage of the son of a former VVIP during the previous regime, was seized by the police from a place where it was hidden in Keselwatta, yesterday.
The Colombo Central Divisional Law Enforcement Unit had raided a room on Silversmith Lane off Abdul Hameed Street, which was said to have been a secret hideout used by underworld operatives.
Police had raided the place after receiving information that it was used by underworld operatives as a meeting place and to do drugs. Police had never expected to find an Italian made black coloured Ducati with an engine capacity of 1,200 cc. parked inside.
A man was arrested on the spot and he had told the police that the expensive motorcycle had been given to him as a gift by one of his friends -- a clearing agent who had died sometime ago.
According to police sources, the suspect and his acquaintances had been riding the motorcycle, which cannot be legally ridden on the local roads as its engine capacity is above the legal limit.
Inquiries had revealed that the motorcycle had neither been registered with the Department of Motor Traffic nor brought in to the country with the knowledge of the Sri Lanka Customs.
Police been told that the motorcycle had been smuggled into the country through illegal channels under the patronage of the former VVIP's son.
Under the prevailing motor traffic laws, clearance from the Ministry of Defence is required to import such high capacity motorcycles, and then too only for riding on race tracks.
Police are conducting further inquiries to discover how the motorcycle was smuggled in and how it ended up with the suspect.
Police, however, had found that the suspect had no criminal record. He was produced before the Maligakanda Magistrate yesterday and remanded.
Colombo Central Divisional Law Enforcement Unit OIC, CI Janak De Silva is conducting investigations, instructed by Senior DIG (Western Province) Nandana Munasinghe, DIG Colombo Lalith Pathinayake, SSP Central Division Saliya de Silva and SP Sanjaya Irasinghe. (Kurulu Koojana Kariyakarawana)