---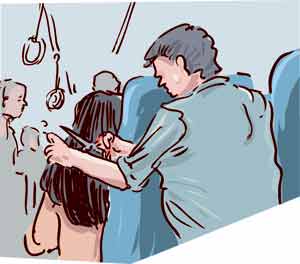 A nineteen-year-old youth, whose love affair with a girl from his school ended after a girl from the same school sneaked about them, was arrested for allegedly cutting off a length of hair belonging to a woman he saw on a bus in a classic case of mistaken identity.
This incident had taken place on Wednesday (28) afternoon. The young man was still grieving from the break-up caused by another girl spreading vicious rumours about him and his love. He had been keeping a watch out for her to take revenge for what she had done. On Wednesday he had spotted a young woman, with features similar to those of the woman he was searching for, boarding a bus going towards Elpitiya. Armed with a pair of scissors, hurriedly purchased from a nearby shop, he had got into the same bus. After sitting behind her he proceeded to cut off a part of the woman's hair in order to exact revenge for the pain of mind she had caused him.
Unfortunately for him however, it turned out to be a complete stranger whose hair he had cut off. Officers of the traffic unit of the Payagala Police were on duty in the Payagala North area when a bus halted next to them and the driver informed them that a youth had cut off the hair of a 21-year-old woman who was travelling on the bus for no apparent reason and had jumped off the bus and was on the run. The Police had acted swiftly and had been able to apprehend the youth. The police had also taken into custody a pair of scissors and a 19-inch length of hair from the possession of the suspect youth.
During the interrogation which followed the suspect had revealed that he had been a student of a leading college in Balapitiya and had developed a love affair with a fellow student. This affair had ended abruptly as a result of a young women spreading rumors. He had been on the lookout for this woman to exact revenge for what she had done.
The suspect was to be produced before the Kalutara Magistrate yesterday (1). (S S Thanthiriarachchi)