---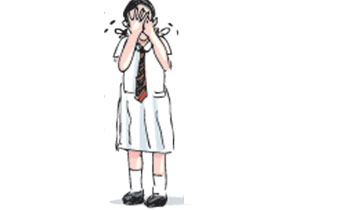 A schoolgirl, studying in grade ten of a government school in the Kekirawa Educational Zone, who had vomited in the class room after coming to school on an empty stomach, was said to have been falsely accused of being pregnant by the school principal who then threw her out of school.
The student, who comes from a very poor family, is sometimes forced to attend school on an empty stomach as there is nothing for her to eat at home. On one such day she had felt faintish and had vomited. This was noticed by her classmates who immediately assumed that she was pregnant and had brought this to the notice of the school principal. Without making any inquiries of her own the school principal had taken a hasty decision to throw her out of school after informing her parents that their daughter was pregnant.
The school girls parents, having reservations about the assumption made by the school principal, had borrowed Rs 500 and taken their child to the Dambulla Base Hospital, where she was examined by two doctors, an Obstetrician and a Gynaecologist, who informed the girl's parents that she was not pregnant. They also reported that she had not been a victim of abuse or rape. The hospital authorities had proceeded to inform the Child and Women's Bureau of the fact.
The schoolgirl continues to remain in hospital on the instructions of the director of the hospital for her to get over the mental trauma she had undergone.
When attempts were made by the paper to obtain a statement from the school authorities with regard to what had taken place, the school principal had stated over the phone that the student's behaviour had not been satisfactory and therefore they had taken a decision to expel her from the school. She had also said that past records had revealed that there had been acts of misconduct on her part in the past as well and that her parents had removed her from the school as a result. (K K Ariyadasa)