---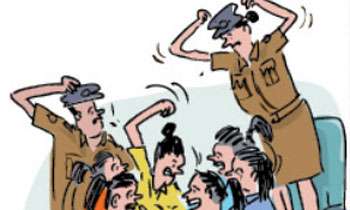 Six young girls between 18 and 21 years, said to be private tuition students of Kurunegala had recently created chaos inside the Kurungela police station when an argument turned into a bitter brawl with the girls fighting viciously, pulling each others hair.
The girls, who were one-time friends, were summoned to the police station to probe complaints that they were involved in swindling unsuspecting males on Facebook.
The argument had triggered during the inquiry. Police were forced to arrest the girls who behaved in an unruly manner.