---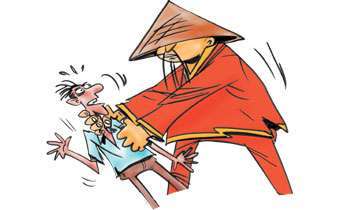 Authorised tour guides in Sigiriya expressed concern about constant clashes between them and the Chinese touts, and they requested the government to save the Sri Lankan tour guides from touts. They pointed out that they obtained the tour guide licence from the Minister of Tourism after a formal training under the ministry and the Central Provincial Council.
They said a member of the Sigiriya Tour Guide Association Hashan Dilruk(28) was injured in a clash between the Sri Lankan Tour Guides and a group of Chinese touts and admitted to hospital.
"An organised group of Chinese on tourist VISA enter the area under the Central Cultural Fund by paying Rs.50/- and function as tour guides, much to the anxiety of the authorized tour guides. We are facing a serious threat from these individuals. Most of them are workers in projects undertaken by Chinese construction companies. One of our members has been assaulted by a Chinese who claimed that he has been functioning as a guide for more than two years. This has been going on unchecked in other areas as well, but the ministry has not yet taken any steps against this illegal act," Dilruk said.
Meanwhile, Project Manager of the Central Cultural Fund Anura Nishantha said he would take immediate steps to check the tour guide identity cards and to prevent the ongoing irregularity, and said the police would investigate the alleged assault on a Sri Lanka tour guide. (Kanchana Kumara Ariyadasa)