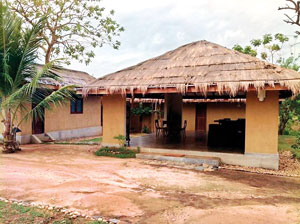 Gonagannara, a typical rural village lies in Koonketiya or commonly known as '17 Kanuwa' off Buttala-Kataragama road, is blessed with healthy offering of natural bounties and rural farms. Rustic retreat 'the Wild Escape', situated in the midst of this rural setup bordering Menik Ganga, is just a ten minute drive away from Yala block three- Galge entrance, the mysterious side of the popular Yala National Park.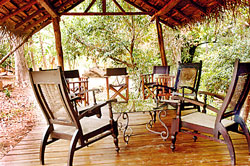 Built on a four Acre farm land, Wild Escape has only five tastefully designed spacious rooms with most comfortable furniture, fittings and facilities for nature lovers to have a pleasant and memorable stay. It consists of two large bungalows with two very spacious connecting rooms with attached toilets and a very large living area overlooking the Menik Ganga and two junior chalets with double accommodation comfort.The main suite can accommodate three visitors, while the large bungalow facilitates eight pax.
'All bungalows at Wild Escape are elevated for safety and elegantly designed and furnished. Nearly 14 people can be accommodated at the resort' said K. L. Premarathne, the Manager Operations at the Wild Escape.
Wild Escape was started ten years ago as a family retreat for Chairman/ Managing Director Devinda Senarathne.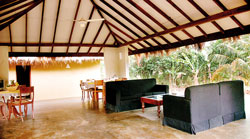 'The present operation with all five rooms and the main lobby was started in 2009.The main theme of the Wild Escape is to give its guests a taste of rural farming life' Premarathne explained.
The gushing Menik Ganga flows by the Wild Escape to add to its beauty that has two relaxing decks. The four acres of land belonging to the Wild Escape also boasts of a properly maintained in-house vegetable garden.
'At Wild Escape, we mainly serve typical Sri Lankan cuisine. But Western, Continental dishes and BBQ are on our menu. Our specialties are breakfast on the waters of Manik Ganga and jungle BBQ dinner on the banks of the river' said Premarathne.
A nature walk passing through a lake and other natural surroundings including a visit to a local farmers house, a bicycle ride in the village, authentic village cookery classes by a village lady, teaching the traditional ways of agriculture by a traditional farmer and a visit to a Chena plantation, a river bath in the warm Manik Ganga, a visit to a villager house to enjoy a cup of tea and Sri Lankan cookies are some of the things lined up for visitors, who like to enjoy village life.
'Apart from village excursions, guests can tour many interesting religious and adventurous places' he added.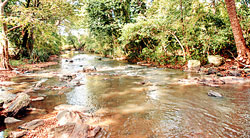 Visiting Yala- block 3 from Galge entrance which is just a 10 minute drive from the Resort, Kataragama Dewalaya (25 minutes), Buduruwagala (20 Minutes), Yudanganawa, Maligawila (one hour), Dematamal Viharaya (45 minutes), Ella,Arugam Bay and Yala Block One are some of the popular excursions with Sri Lankan and overseas visitors.
Wild Escape is perfectly located for adventure, leisure and business guests too.
'The hotel is ready to provide transportation, tour guides for excursions and tours on request. Bicycles on rent are available at the hotel. I request all guests to enjoy the hotel's recreational facilities, including the garden, before retiring to your room for well-deserved rest. Discover allYala has to offer by making Wild Escape your base' said Premarathne.