---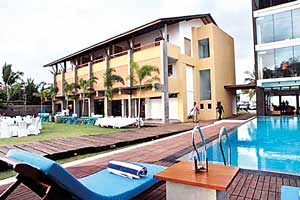 The Amagi Lagoon Resort and Spa, the latest addition to the country's newest resort folder, was declared opened over the weekend. Located in Negombo, just 5 minutes away from the Katunayake International Airport, these three star luxury hotel have 22 luxury rooms including three water bungalows, two high restaurants, a swimming pool, banquet facilities, a state of the gymnasium and a modern fully-fledged spa.

Amagi Lagoon Resort and Spa is located on a two-acre land which borders the Negombo lagoon. It was built with the intention of providing an opportunity for guests to move into the lagoon and experience new styles of recreation.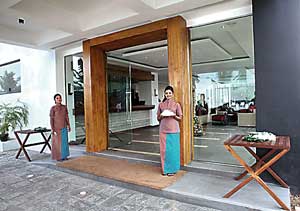 "The project investment is Rs. 500 million. It will accommodate local holiday makers as well as international travellers. This hotel will create employment for youth in the area in addition to boosting income and business opportunities to the self-employed, micro enterprises" said S.Ganesh Nathan, the proprietor of the Amagi Exports, the parent company of the Amagi Resort and Spa.

Spacious and bright, Amagi Lagoon offers luxurious accommodation that welcome guests with exquisite architecture, unique and inspiring design elements, modern amenities and stunning views of the Negombo Lagoon.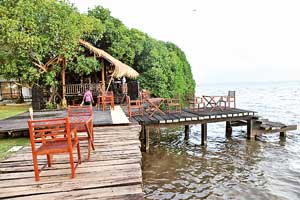 Escape from the rest of the world and find your oasis in one of the hotel's 22 comfortable rooms, where each detail has been refined to suit you just right. Vibrant and soothing lagoon-themed interior designs have been carefully selected to reflect the tranquillity of the surroundings, and a gracious blend of soft lagoon tones enhances the hotel rooms' residential-style furnishings.

'The luxurious privacy offered here will be unmatched but affordable' Ganesh added.

The continuous deck made out of salvage railway sleepers along the lagoon water edge will provide a place to sit and enjoy the sun set in the evening.

The large swimming pool will be connected with the lagoon offering the experience of a lagoon bath. The kid's pool and the play area which is connected to the large landscaped garden will promote more family gatherings and day outs.