---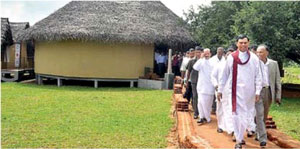 The "Aliya Resort and Spa" in Sigiriya, a Rs.1.4 billion (7.8 million US dollars) investment by veteran hotelier Chandra Wickramasinghe, was ceremoniously opened by Economic Development Minister Basil Rajapaksa last Saturday.

The Aliya Resort and Spa was the first four star hotel opened in the cultural triangle for the year 2014, in line with Economic Development Ministry's programme to construct 50,000 new hotel rooms.

"This Resort will contribute to accomplish the programme set by the Ministry to construct 50,000 hotel rooms to accommodate increasing number of foreign tourists scheduled to visit Sri Lanka by 2016," Minister Rajapaksa said.

He said that 2.5 million tourists are expected to visit the country by 2016.



The 96-room 'Aliya' Resort and Spa has been built on a 22-acre land in Sigiriya providing 220 job opportunities to the youth in the area.

Aliya Resort & Spa Chairman and Managing Director Chandra Wickramasinghe said the Resort blends in with the Sigiriya villages and the simple carefree lifestyle of the people who live there.

The Ministry stated that the construction of 50,000 new hotel rooms would create 500,000 new jobs associated with tourism industry. The new holiday resorts would increase sources of foreign exchange and by 2016, Sri Lanka is expected to earn nearly 3 billion US dollars in foreign exchange annually.