---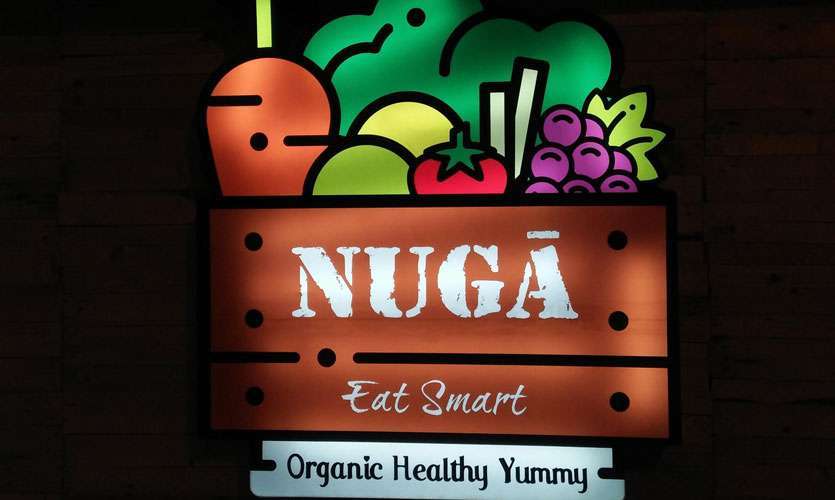 If you are looking for a healthy fix when it comes to food, then we recommend that you check out Café Nuga. Located on Green Path, Colombo 7, there is no way you can miss it with the big board that says Café Nuga!

After hearing many rave reviews from friends and family, we decided to check out Café Nuga ourselves. We can say they had us at Hello! From the warm greeting at our arrival to the service and not to mention the food arriving within 10-15 minutes and the consistency in every dish we ordered - we had no worries!
Ambience
We loved what they had done with the place. It was like a summer garden house located in the city with a nice retro touch to it. Since we arrived in the evening, we really enjoyed the warm yellow lights and the glass windows, not to forget the green grass wall and the quirky, retro pictures and sayings on it. Definitely, a place to get your Instagram fix, so click away!
Food
Their Menu had variation and we needed time to decide on what we wanted; there was so much to select from! Be it Italian, American, Mexican, rice or just sandwiches, Café Nuga has a dish that will suit anyone!

After going back and forth, we finally decided to go with the "Smoke Salmon Warrior Salad" and the "Sweet Potato Chickpea Burrito Bowl" which was a vegan selection.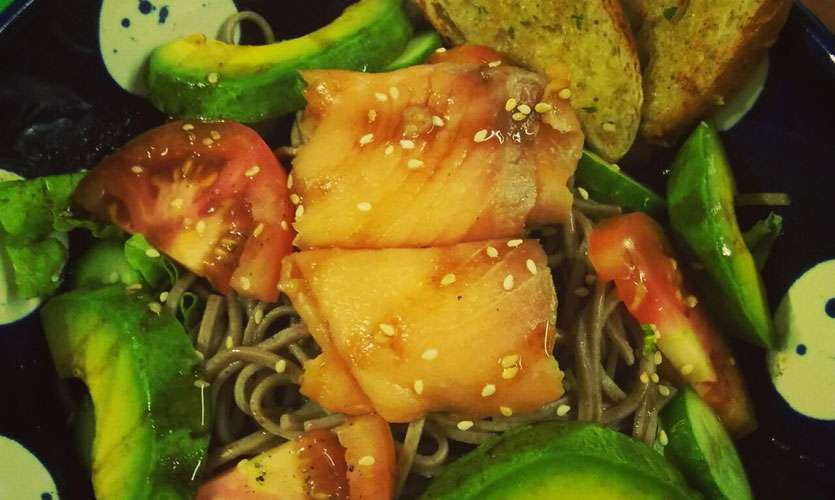 Starter-Smoked Salmon Warrior Salad (Rs.980) - 4.9/5
When we saw the outburst of colours from the blue bowl, we just looked at it a little more before indulging because it was just so pretty! If you are someone who loves your Smoked Salmon with a nice balance of avocado and a healthy balance of greens and a dash of zing (thanks to the sesame & wasabi dressing), then we suggest you try this out! For the price, they were really generous with their portions and the best part is how healthy it is. So you don't have to feel guilty at the end of the dish!
Garlic Bread- 5/5
This was a surprise to us since it was complimentary and what we enjoyed was how fresh it was, sticking to the concept of Nuga! It was so good that it was gone in a few minutes!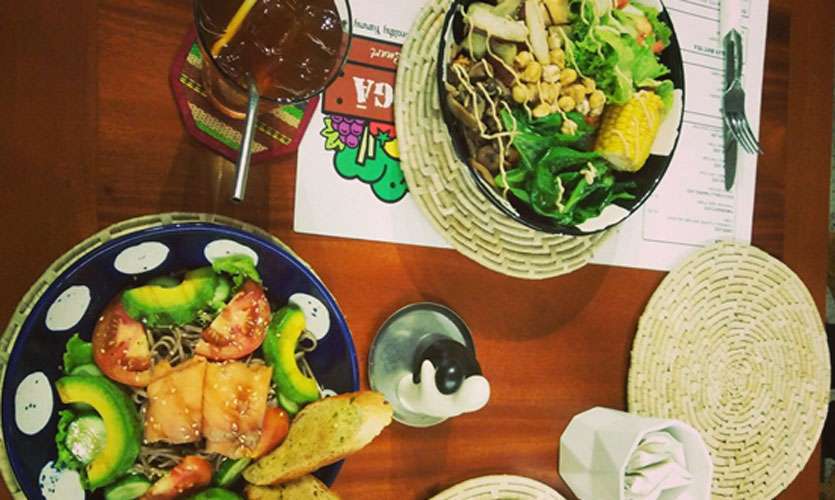 Main course - Sweet potato chickpea burrito bowl (Rs.650) 4.9/5
Café Nuga is consistent in everything; even the presentation was so vibrant. This was our favourite dish even to our surprise! If you are someone who has always questioned vegan food, then we suggest you try this out because you won't be questioning it anymore! From the roasted sweet potatoes and the crispiness of chickpeas to the rice and the tahini, the flavours were just balanced so well.
Drinks– Lemon Grass Inspired Ice Tea 4.8/5
As soon as we saw Ice Tea and Lemongrass in one sentence we knew we had to get this! Now please be aware that the iced tea isn't lemongrass flavoured but rather inspired. So make sure you order this with an open mind. Although the ice tea was a little too watered down for our liking, the glass was presented beautifully and served chilled!
What we recommend:
Sweet Potato Chickpea Burrito Bowl (Rs.650)
Service: 5/5
Parking facilities: 4.9/5
If you are someone who is looking for a consistent healthy lifestyle, then Café Nuga is the place to be. From the colours to the flavours of their dishes, their food is fresh, organic and authentic.

Would we go again?
Definitely!
Tips/Notes by author
Don't forget to check out their organic store which has coconut-based products, organic pasta, pasta sauce, organic tea and so much! As the founders of Cafe Nuga mentioned, they want to build a healthy lifestyle and that was the idea behind creating Café Nuga and that is exactly what they are doing!
Don't take our word for it. Experience it yourself and let us know!
Article courtesy life.lk