---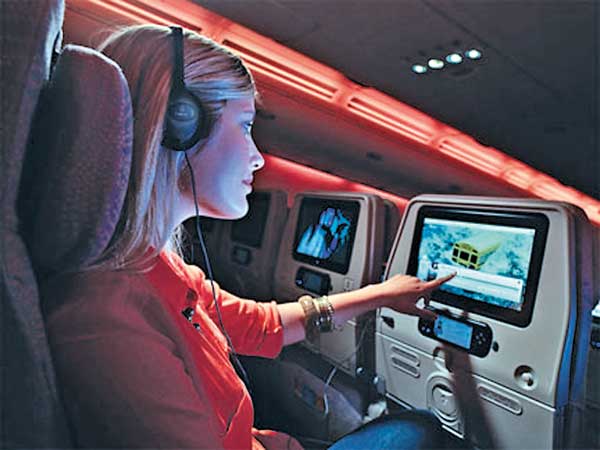 Emirates continues its record-breaking streak for its ice entertainment system which has been awarded the 'World's Best Airline Inflight Entertainment' at the 2015 SKYTRAX World Airline Awards for the 11th consecutive year.

The Skytrax World Airline Awards polled over 18 million business and leisure air travellers from more than 160 countries. The award was accepted by Emirates Divisional Vice President Customer Experience Patrick Brannelly, at the awards ceremony recently in Paris. Emirates additionally won an award for 'Best First Class Comfort Amenities'.

Always pioneering, Emirates' in-flight entertainment system continuously sets industry standards from being the first airline to launch personal TV screens in all seats in 1992, to Live TV in 2013 and free Wi-Fi on its compatible aircraft in 2014. Now with over 2,100 channels on ice Digital Widescreen, Emirates continues to push boundaries in the depth and breadth of content it offers the global traveller. Emirates' second award at the 2015 SKYTRAX World Airline Awards for Best First Class Comfort amenities highlights the popularity of its men's and women's kit with products from luxury Italian brand Bvlgari.

"These awards are particularly gratifying as they reflect a vote of confidence from global travellers, who appreciate our on-going efforts to deliver high-quality content. We don't believe in resting on our laurels and will keep pushing the limits of what is possible. We aim to stay creative, stay relevant and keep building content that appeals to the broad cultural diaspora that travel on Emirates," said Brannelly.

"Receiving this honour for the 11th year is truly a testament to our unrelenting effort to offer a consistently great product that surprises and delights customers and I believe that this is what sets us apart."

Ice Digital Widescreen highlights:
2100+ channels on ice Digital Widescreen
Over 500 films including the latest blockbusters from Hollywood, Bollywood and the rest of the world, with around 80 movies added every month
Connectivity: Wi-Fi on over 120 aircraft, mobile phone or personal in-seat phone for every customer
Up to the minute: Live TV news or live text news available on all aircraft 24/7
Entertainment offered in more than 35 languages for a global audience
More TV programmes in the air, including 50 complete box sets of hits shows, including Better Call Saul and Wolf Hall this June
More than 1000 channels of music and radio
Family friendly offering: 50 Disney movies, over 25 channels of kids' TV, special headsets and a bespoke activity magazine
Accessibility: Growing list of movies offering Closed Captions and Audio Descriptions; over 60 with Closed Captions and over 20 with Audio Description this month
Quality experience: 60 aircraft with HD movies with more to come, new and improved headsets and superior sound quality
Emirates recently delivered Airbus A380 and Boeing 777 aircraft offer larger personal TV screens with HD resolution: 27-inch in First Class, 20-inch in Business Class and 12.1 inch in Economy Class, with more product enhancements to come when Emirates launches its next generation IFE system this August.

"I congratulate Emirates on its long-standing winning record in taking the award for the Best Airline Inflight Entertainment. It's a huge accomplishment to win this fantastic customer recognition for inflight entertainment year after year and the team must be very proud. As an onboard product offering, inflight entertainment continues to grow in importance for customer satisfaction rankings and it's a richly deserved recognition to remain a favourite airline for this amongst passengers," said SKYTRAX CEO Edward Plaisted.