---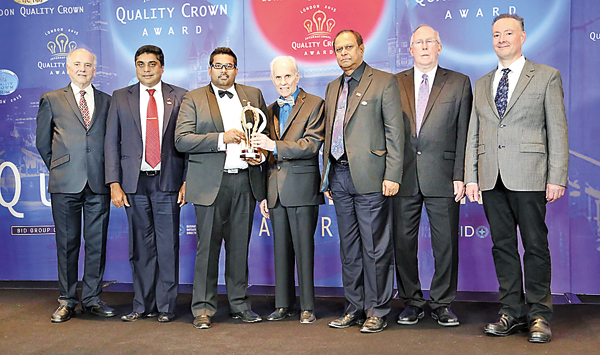 Cosmic Technologies Private Limited won the BID International Quality Crown Award in London recently.

London hosted this year's BID International Quality Crown Convention, where professionals and business leaders from around the world gathered to recognize excellence and success. In particular, the convention celebrated quality in business and operations. Award winners demonstrated commitment to the criteria of the QC100 TQM Model, which helps bolster customer satisfaction and cost efficiency across all areas of operation.

Among this year's winners, Dilruwan Rajapakse and Kumar Rajapakse of Cosmic Technologies Private Limited, from Sri Lanka, received the International Quality Crown Award in the Gold Category at the BID Quality Convention in London. The organization has made huge strides this year as a leader not only within its sector, but also in Sri Lanka. The Award came as an ideal way to celebrate this past year's successes while looking forward to putting quality first in the year to come.

Cosmic Technologies (Pvt) Ltd, is a leading service provider in Sri Lanka for Aviation Overhaul Services and Defence Supplies. The Company is conforming to ISO 9001:2008 Quality Standards and is a Member of the prestigious European Chamber of Commerce in Sri Lanka. They closely liaise with Government Authorities, Defence Establishments, State Factories, Diplomatic Corps and Prestigious Companies of other Countries. Cosmic has expanded services into Environment, Power Generation, Tourism, Petroleum and Oil Refinery Sectors, thus proving our corporate prowess as an international Company since its inception in 1997.

Dilruwan Rajapakse stood before the gathering of international leaders, sharing the company's achievements to date as well as its future ambitions and goals. Despite the difficult current global economic climate, Cosmic Technologies Private Limited strives to excel in quality each day, creating a competitive advantage in its industry. For this reason, Cosmic Technologies Private Limited won the 2015 BID International Quality Crown Award in London. The Award is presented by BID to those companies and organizations from around the world that best adhere to excellence and innovation in their practices, putting quality first at all levels of organization.

The companies honored in London were recognized not only for their entrepreneurial achievements, but also for their dedication to continuous improvement and innovation, key concepts of the QC100 Total Quality Management Model. Seeking to increase customer satisfaction and optimize efficiency, the model promotes an organizational culture of engagement and a proactive approach to improving processes.

An ongoing commitment to Quality, one of the core requirements for receiving a BID Award, can be witnessed through the distinguished companies previously honored with a BID Quality Award. Companies which already share BID's corporate seal are present in more than 170 countries and include world-renowned names on the Fortune Global 500 list such as: Operadora VIPS, of Wal-Mart Stores (1) Indian Oil Corporation Limited (96); and Beijing COFCO Plaza Development (401).