---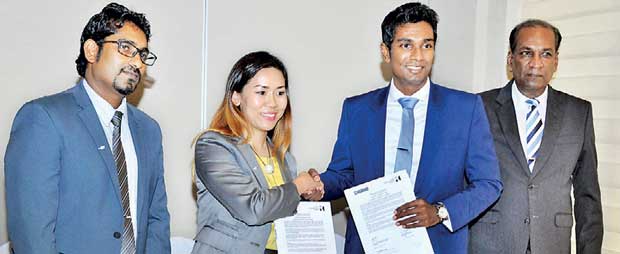 Swiss Lanka Hotel School CEO Sandun Ranaweera exchanges agreement with LSBF Regional Business Development Director Jenny Zhang. Also in the picture are (left) LSBF Business Development Manager Kanishka Asiri Wijekoon and Swiss Lanka Hotel School Managing Director Camilus Ranaweera
Pic by Nisal Baduge
A Memorandum of Understanding (MoU) had been signed between Swiss Lanka Hotel School and London School of Business and Finance (LSBF), UK on 22June 2017 in Colombo,
Sri Lanka.
The MoU will give an opportunity to students of Swiss Lanka Hotel School, to pursue a bachelor's degree in hospitality management organised by LSBF. This opportunity will be provided exclusively for the students who have already completed the diploma in hotel management awarded by Swiss Lanka.
The LSBF which comes under Global University System (GUS) is internationally recognised for its teaching and research strengths in the field of business management, international law, hospitality management and health and social care. The students will be able study programmes from the fulltime while working on their industrial attachments.
LSBFInternational affairs Director who arrived in Sri Lanka for this important occasion said "This exciting development recognises the Swiss Lanka Hotel School in strengthening the advanced diploma programmes in the field of hotel/ tourism management and diploma in culinary arts, have been recognised for this prestigious partnership". She further stated that LSBF is looking forward to working closely with Swiss Lanka and developing a relationship that has great potential for both the LSBF and Swiss Lanka Hotel School. The Swiss Lanka Hotel SchoolManaging Director Camillus Ranaweera thanked the LSBFInternational AffairsDirector and said "I have great pleasure in signing the Memorandum of Understanding between our two institutions. I view this as a long-term, fruitful and symbiotic relationship where we can share and develop. I look forward to building upon this opportunity to strengthen our mutual relationship on behalf of future human resources for the hospitality and tourism industry in Sri Lanka".
This is one more example of the two institutions collaborating to bring higher education opportunities to students in Sri Lanka. The prospective students have the rare opportunity of completing the first year of their studies in Colombo. After completing the local diploma the students can proceed to LSBF to continue the advanced in hospitality management. Once at LSBF, the doors are open for the Sri Lankan students to go to Australia, Singapore, USA or Europe for further education.