---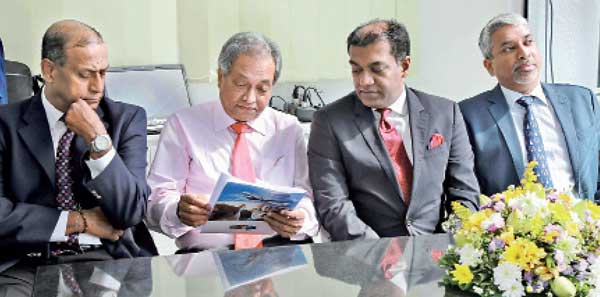 SriLankan Airlines Chairman Ajith Dias reading a publication of the national carrier during the ceremonial opening ceremony, while SriLankan Airlines Chief Commercial Officer Siva Ramachandran (extreme left), Scicom Lanka CEO/Executive Director Leo Ariyanayakam (second from right) and SriLankan Airlines CEO Captain Suren Ratwatte look on
Pix by Damith Wickramasinghe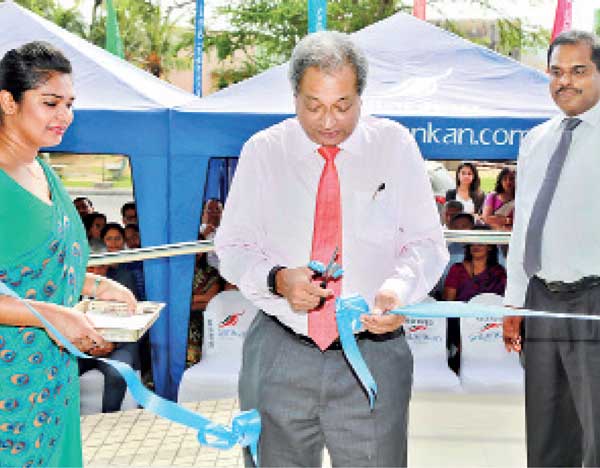 SriLankan Airlines Chairman Ajith Dias officially opening the new Global Contact Centre located at Iceland Business Centre in Colombo 3
By Shabiya Ali Ahlam
Adding on to the ongoing facelift, SriLankan Airlines yesterday commissioned its new state-of-the-art Global Contact Centre, which is expected to boost the levels of services extended to its worldwide customers.

The new call centre will be in operation 24x7 unlike the previous service that functioned only from 8:00 a.m. to 11:30 p.m., resulting in the incapability to cater to a segment of customers, including those from the United Kingdom due to the different time zones. While the former contact centre was handled by the two entities – HelloCorp and InterGlobe Technologies (IGT) – for which the contract expired in the recent months, the customer service call centre is now handled by Malaysia's SciCom.

The contact number of the call centre is 1979, the year in which SriLankan Airlines, then AirLanka was established after the shutdown of bankrupt Air Ceylon. The call centre will operate in four languages – English, Sinhala, Tamil and Mandarin – for the current period but the officials said plans are afoot to increase the number of operating languages.
The call centre is fully equipped to handle a range of customer services including 24x7 call and email handling, Skype facilities, direct dial number for selected online destinations and customized services for individual FlySmiLes members. A chat facility is also expected to be activated in the coming weeks.

Highlighting SriLankan Airline's renewed focus towards a positive growth trajectory, SriLankan Airlines Chairman Ajith Dias said, "We have sharply enhanced our focus on the needs of our customers as an integral part of our efforts to expand our business and bring SriLankan Airlines to profitability. I am confident that our new Global Contact Centre will tremendously increase the levels of convenience and go a long way delighting our customers."
Speaking along the same lines at the opening ceremony, SriLankan Airlines CEO Captain Suren Ratwatte pointed out that the service in the call centre would be comparable to the service rendered at the national carrier's ticket offices, airport services and on-board the aircraft.

"Customer service and safety are our top priorities and this centre is proof of our commitment," he added.

The newly set-up venture will be handled by a staff strength of 137 agents (126 for SriLankan Airlines and 11 for Mihin). It was shared that the cost incurred in the establishment of the centre would be Rs.88, 000 per agent, which includes pay, operational costs and others.