---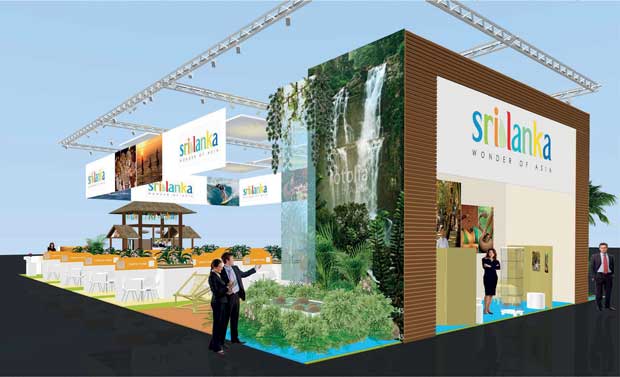 Sri Lanka Tourism is yet to create another hallmark in the international travel market by participating in the Internationale Tourismus – Borse (ITB) Berlin, that will be held from 8th -12 March at Messe, Berlin.
It is an annual event which takes place in March, where Sri Lanka has been a regular participant. ITB is also one of the most important events in the international tourism calendar, and also the world's largest tourism trade fair.
There will be approximately 120 representatives consisting of top 60 travel agents and hoteliers, representing Sri Lanka at the event.This year,Sri Lanka Tourism has focused more on visibility and onsite branding opportunities. Many banners have been displayed throughout the venue. Sri Lanka Tourism has advertised in ITB Berlin news which has an online and print version.
The print version is distributed widely at many outlets, which sells around 15,000 copies per day. The content of ITB Berlin News is designedto be highly useful for trade visitors and press and advertising in the magazine enables to capture a wide audience.
In addition to that, TTG Show Daily is also another newspaper where Sri Lanka Tourism will be advertising and is distributed widely. It distributes 9,000 copies on site while 70,000 e-copies are circulated globally. TTG Show Daily is Asia – Pacific Travel's Leading Publisher in Life Event Coverage and brings the latest news, developments and insights. All daily issues are circulated in digital format, ranging from the event grounds to industry leaders.
The Sri Lankan delegation to Berlin will be led by John Amarathunga, Minister of Tourism Development and Christian Religious Affairs, Paddy Withana, Chairman, Sri Lanka Tourism Promotion Bureau. They will be joined by Karunathilaka Amunugama, the Ambassador of Sri Lanka in Germany. The opening ceremony will take place with the ceremonial lighting of the traditional oil lamp on March 8th. This will be followed by a press conference on 9th March, and over 60 foreign journalists are expected to attend the conference.
''The ITB Berlin will be an excellent opportunity to promote Sri Lanka as a compact destination filled with cultural and historical values. Sri Lanka has achieved a positive growth in the tourism sector. Due to the peace and reconciliation process in Sri Lanka, there is a better and a safer environment for tourists to have a holiday experience of their choice. I'm sure this will be a great experience to all travel and tourism industry officials who will want to proceed further and take their fields to greater heights'', said Paddy Withana.
IMM is another mega media event where SLTPB will be participating to target high profile journalists from Europe. IMM is a media eventwhich brings together world's leading media personnel. Sri Lanka Tourism will be showcasing it's best at IMM, which is scheduled to be on 7th March, 2017. This is the first time that Sri Lanka will be participating at this event. IMM Germany 2017 is organized by TravMedia Germany Ltd. TravMedia .com is the world's largest PR Portal connecting approximately 40,000 leading travel journalists around the world with more than 3,500 travel organizations globally. IMM events are organized in the US, UK and Asia and Australia since 2013. Germany will be hosting the IMM event for the first time and the headline sponsor of the event is Brand USA.
In 2016, total number of tourist arrivals stood at 2,050, where it marked a 14 percent increase. Tourist arrivals from Western Europe were reported as 643,333, which was a 16.5 percent increase compared to the same period last year. Germany recorded 133,275, tourist arrivals which was a 15 percent increase compared to the same period in the previous year.