---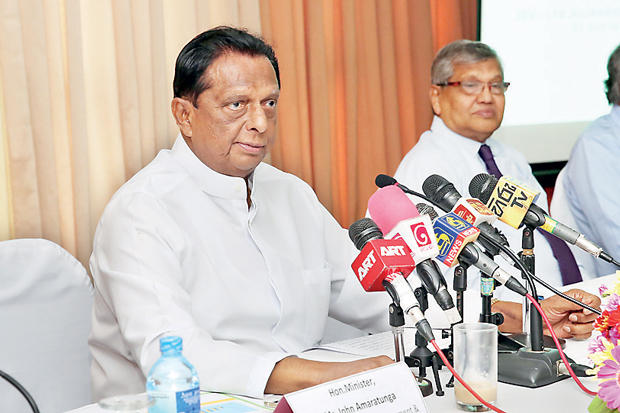 Tourism Development and Christian Religious Affairs Minister John Amaratunga and Sri Lanka Convention Bureau Chairman Prema Cooray during the press conference
By Shabiya Ali Ahlam
Come October, the local tourism industry will fall under fresh spotlight with the prestigious JEV Conference 2016 of France slated to take place in Colombo.
JEV Conference 2016, Les Journées Des Entrepreneurs Du Voyage, which will kick off on October 31, is scheduled to go on till November 4.
The official opening of the event is set to take place at the BMICH on December 31 while the technical sessions will be held at Cinnamon Grand Colombo. In addition to an interactive session with local travel agents that will take place on the opening day, the five-day event also includes islandwide visits.
The annual conference, known as the flagship event of French travel agents, is expected to bring 400 delegates. According to the Tourism Ministry, Sri Lanka selected to host the event will bring fresh boost to the meetings, incentives, conferences and exhibitions (MICE) tourism and the sector as a whole. "400 travel agents with their partners will be in Sri Lanka and that will have a snowballing effect in promoting French inbound tourist in Sri Lanka, a market we are keen on witnessing further improvement," said Tourism Development and Christian Religious Affairs Minister John Amaratunga. It was shared that the publicity value amongst French nationals as a result of the event would be US $ 75 million.
Hosting JEV Conference 2016, Sri Lanka aims to increase French tourist by 15 percent between 2017 and 2018. While it is aimed to attract approximately 100,000 travellers each year, it was shared that revenue from that market is expected to surge by 10 percent and reach an annual target of US $ 200 million.
France has been a vital market for Sri Lanka tourism but witnessed dampened progress in the recent years due to uncertain environment attributed to the ethnic conflict. However, it has been observed that a surge in interest in the island nation has been expressed. Sri Lanka has been successful in being listed as one of the top 20 countries to visit in France and is expected to be named as the destination of the year by 2017.
According to Sri Lanka Convention Bureau (SLCB) Chairman Prema Cooray, all ground and air arrangements have been finalised. "The industry will work together to promote the event from now on wards," said Cooray.
In 2012, Sri Lanka pitched to host the event but failed in its attempt. Hosting JEV Conference 2016 in Sri Lanka will be the first time in 10 years the event has been held in Sri Lanka. Other Asian countries that hosted the event include China and Thailand.