---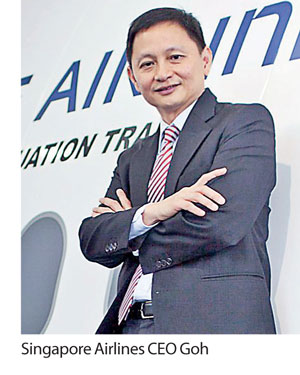 Singapore Airlines (SIA) CEO Goh Choon Phong has been presented the prestigious 2016 Dwight D. Eisenhower Global Innovation Award from the US-based Business Council for International Understanding (BCIU).

Phong was presented the award at a gala dinner in New York City recently. It is the first time a BCIU award has been presented to a recipient from Southeast Asia.
BCIU is a non-profit, non-partisan association dedicated to forging relationships and promoting dialogue between business and government communities around the world. Past winners have included Masami Iijima from Mitsui & Co, Marillyn Hewson from Lockheed Martin, football legend Pelé, Ratan Tata from Tata Trusts, Mexican businessman Carlos Slim, Sergio Marchionne from Fiat Chrysler, Mukesh Ambani from Reliance Industries, Lakshmi Mittal from ArcelorMittal and Jeffrey Immelt from General Electric,
among others.
In presenting Phong with the Global Innovation Award, BCIU President Peter Tichansky said it was in recognition of Phong's "transformational leadership of Singapore Airlines".
"Goh Choon Phong, characteristic of BCIU's Eisenhower Honorees, is an exemplary leader who has changed his industry through the courage of his convictions,"
said Tichansky.
"His drive to innovate is representative of Singapore's global leadership in building a smart nation for the world to experience and in many ways emulate. The BCIU looks forward to a long-term engagement with the SIA team."
Accepting the award, Phong said, "I wish to thank the Business Council for International Understanding for this accolade and am proud to accept it on behalf of the 25,000 employees of the SIA
group worldwide."
Phong added, "This award is genuinely about much more than any one individual. It is more accurate to characterise it as an award for the people of the great company I am privileged to work for. The perseverance of our staff, combined with their shared enthusiasm and constant desire to enhance the travel experience of our customers, makes this an award for all our employees, rather than just for me."

At the same event, Dow Chemicals Company Chairman and CEO Andrew Liveris was presented the 2016 Dwight D. Eisenhower Business Statesman Award.
The awards are named after former US President Dwight D. Eisenhower, who established the BCIU in 1955. Its membership includes many of the world's largest corporations in all
major industries.