---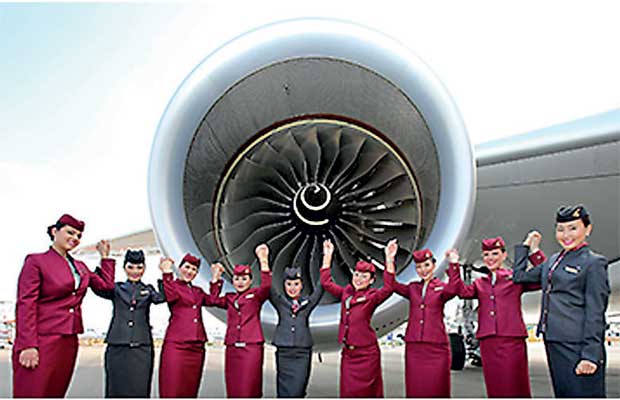 Qatar Airways hosted guests and visitors on the opening day of Singapore Airshow 2016 on board its state-of-the-art fleet. The award-winning carrier had three of its latest-generation aircraft on static display at Asia Pacific's largest aerospace event.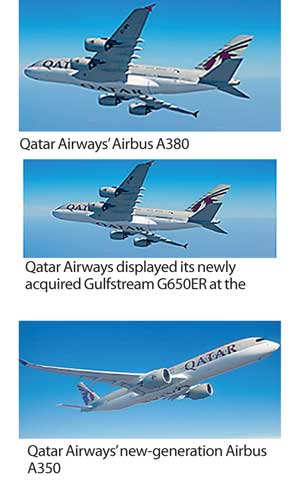 Qatar Airways Group Chief Executive Akbar Al Baker also welcomed Singapore Transport Ministry Permanent Secretary Pang Kin Keong and other senior level officials, trade partners and members of the press on board the airline's flagship A350 aircraft, for which it was the global launch customer.
Since its inception in 2008, the Singapore Airshow has evolved into Asia's largest aviation event. This year marks the second time Qatar Airways is participating at the Singapore Airshow, traditionally a platform and opportunity for trade, media and aviation enthusiasts to experience industry developments.

Al Baker said, "Our presence at the Singapore Airshow this year is very much enhanced as compared to the last edition. Visitors at the show grounds are greeted by some of the latest and most technologically advanced aircraft in our fleet. Our three aircraft on display – the A350, A380 and G650ER – are among the best in the market place right now, and we are extremely pleased to be able to showcase the future of aviation today for our visitors."

Among the stellar line-up of aircraft on display was Qatar Airways' A350, which has recently celebrated the one-year anniversary of operations in January. Qatar Airways now flies the A350 to four destinations – Frankfurt, Munich, Philadelphia and Singapore – and is the first airline to fly the A350 to three continents; Asia, Europe and North America. Singapore has the distinction of being the first country in Asia to host commercial service of the A350, in May 2015. Presently, all three of Qatar Airways' daily flights from Singapore to Doha are serviced by the groundbreaking A350 aircraft – signifying the importance of the Republic to Qatar Airways.

Qatar Airways' Gulfstream G650ER also made its debut in the Southeast Asia region at Singapore Airshow 2016. The business jet is the first of 30 latest-generation Gulfstream aircraft to be ordered by Qatar Executive, the private jet division of Qatar Airways Group. The Gulfstream is equipped with industry-leading cabin technology and unparalleled cabin comfort with seats that can be converted to fully flat beds for a good night's rest. The G650ER joins Qatar Executive's existing long-range fleet of eight modern Bombardier aircraft, including three Challenger 605s, four Global 5000s, a Global XRS, and a 40-seat Airbus A319 All-Premium Class aircraft, all available for worldwide charter.