---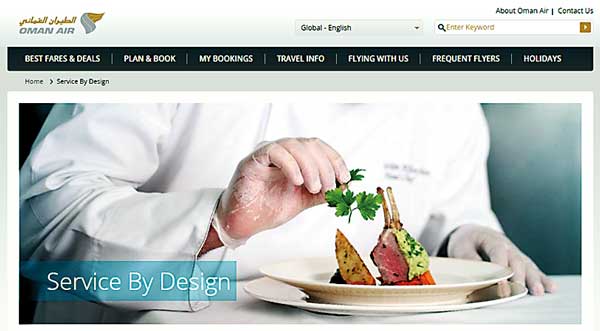 Oman Air has unveiled Service by Design, a brand-new and innovative in-flight dining option for First Class customers.

With the slogan 'Choose your own Chef', Service by Design enables passengers in Oman Air's most exclusive cabins to compose their own in-flight meals by visiting the airline's website at www.omanair.com. There they can choose from a delicious range of fine dining menu options to create the perfect in-flight meal.

Service by Design menus can be selected at any time between making a reservation and 24 hours before departure.

An enhanced range of dishes is available on Oman Air's website. Each is inspired by the vibrant flavours of the Middle East and Oman Air's international destinations, and is made with the finest of fresh ingredients. Choices include halal, kosher, vegetarian and a range of other options to suit all tastes and preferences. Dishes are changed regularly to reflect seasonal variations and availability.
Unveiling Service by Design at Oman Air's headquarters in Muscat, Executive Vice President Products and Brand Development said Abdulaziz Al Raisi, "Oman Air's First Class customers expect only the very best and Service by Design is an outstanding addition to our exclusive First Class customer experience. This bespoke dining option offers the ultimate in onboard fine dining and ensures that Oman Air's luxurious aircraft cabins and award-winning onboard service are complemented by the perfect, personalised in-flight meal.

"Service by Design is available wherever Oman Air offers First Class long haul travel. Whilst a delicious First Class menu is available in-flight, Service by Design enables out First Class customers to select a meal that is ideally suited to their tastes, preferences and dietary requirements. It also allows us to offer more dishes, more choice and greater convenience. Furthermore, choices can be altered at any time up to 24 hours before take-off.

It is a pleasure to launch Service by Design and I am sure that it will be warmly welcomed by our most discerning customers."

Service by Design is the latest offering from Oman Air's creative in-flight dining team. Their work has previously won acclaim in Saveur magazine's Culinary Travel Awards, with judges singling out Oman Air's London to Muscat First Class menu for special praise. In addition, refreshments offered in First Class have won a number of prizes at the Business Traveller Cellars in the Sky Awards.
Oman Air currently offers First Class bookings on flights from Muscat to London, Bangkok and Kuala Lumpur.