---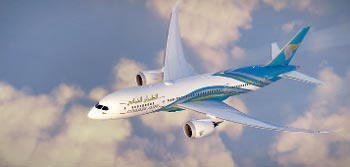 Oman Air is delighted to announce a grand global sale to coincide with and to celebrate the 47th National Day of the Sultanate of Oman.

The grand global sale offers discounts upto 47 percent in both Premium and Economy cabins applicable for the entire Oman Air network. The sale is valid from 30th October till 6th November 2017 with travel permitted till 31st May 2018. This global sale is the ideal way to celebrate 47th National Day of the Sultanate of Oman by rewarding customers for their loyalty to the airline.

Commenting on the global sale, Oman Air Country Manager Gihan Karunaratne said: "Oman Air is proud to celebrate the 47th National Day of the Sultanate of Oman with the generous gesture of extending a global sale promotion to valued customers to share the joy and pride we feel as the national airline of Oman. We believe this is a fitting demonstration of how much we value our patrons. Customers can take full advantage of the promotion on flights to a wide selection of international destinations. The global sale is an offer not to be missed as it offers handsome savings and a chance to experience our signature hospitality aboard Oman Air."

Oman Air has been steadily carving out significant share in Sri Lanka's aviation industry and has built a strong customer base and brand presence in the local market. Sri Lanka is an important destination in Oman Air's route network in the region and over the last few years the airline has increased flights between Colombo and Muscat. Oman Air now operates double flights daily between Colombo and Muscat. The airline currently offers flights from Colombo to a variety of destinations around the world and also many countries in the Gulf region.

Another example of Oman Air's commitment to its loyal customers is its loyalty programme, Sindbad. The membership programme earns flyers Sindbad miles both in the air and on the ground. Customers who fly with Oman Air or its partner airlines or indeed transact with any of its global partners earn Sindbad miles, which can be used for free flights, flight upgrades, exciting raffles and promotions.