---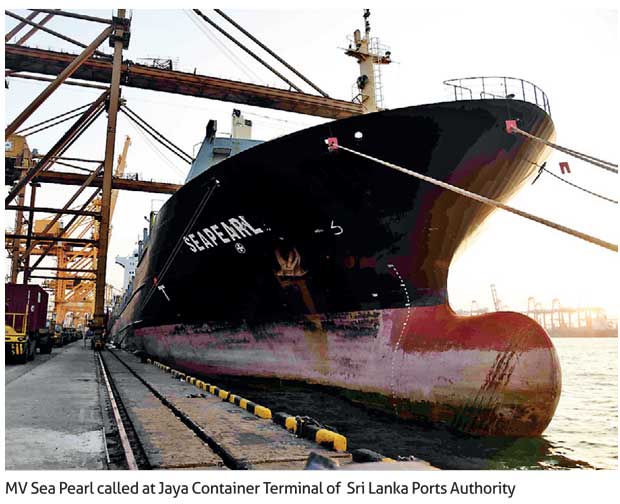 A new dedicated feeder service on the Yangon-Chennai-Colombo-Yangon sector commenced with the Port of Colombo. The first vessel under the new service, MV Sea Perl, made her maiden call at the Sri Lanka Ports Authority (SLPA)-controlled Jaya Container Terminal (JCT) on December 18, 2017.

To mark the occasion, a plaque exchange was held on board the vessel between the master of the vessel, SLPA and officials of the ship's agents.

On behalf of the SLPA, Director Port Operations Jayantha Perera exchanged the plaques with the ship's Master Captain Kovalchuk Viacheslav. Arinma Marine Services (Pvt.) Ltd acts as the vessel's local agent.

Welcoming the new vessel and service to the Port of Colombo on behalf of the management of the SLPA, SLPA Chief Manager Marketing and Business Development Upul Jayatissa stated that the new service is considerably important as it opens a new market between Yangon and Myanmar via the Port of Colombo.

"On behalf of the SLPA and JCT, I would like to extend my warmest welcome to MV Sea Pearl and Arinma Marine Services (Pvt.) Ltd for their credibility placed on the services extended by the SLPA," he said.

In a special message to the new service, Arinma Holdings Chairman Ashan Malalasekara stated that due to the existing balanced trade between India and Myanmar and increasing exports from Myanmar to Europe/USA and Africa, the company is quite confident that it could move its cargoes via Colombo instead of Port Klang and Singapore, where they are transhipped at present.

"Our main goal is to promote the Port of Colombo as the transhipment hub with the increased exports from Yangon to Europe, Middle East and Africa. We have already secured Yangon exports to Chittagong, which will be discharged at the Port of Colombo for on carriage to Chittagong. Our target is initially to offer at every 10-day frequency and upon with increased liftings we will deploy the second vessel to offer an every five-day service," he said.

SLPA Chief Operations Manager I.K. Gnanathilaka, Chief Manager Marketing and Business Development Upul Jayatissa and Senior Deputy Harbour Master Capt. Nirmal Silva also attended the occasion to mark MV Sea Peral's maiden call under the new service to JCT-SLPA.

Arinma Holdings Chairman Ashan Malalasekera, Joint Managing Directors Sanjiv Malalasekera and Irishad Ally, Arinma Shipping Pte Ltd Director/CEO Ivan De Almeida and Arinma Holdings General Manager Naveed Hussain attended the occasion.