---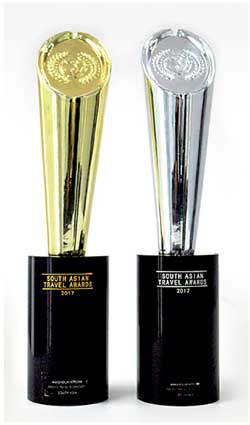 Sri Lankan travel Innovator Makeyourtrip.com was recently recognized at the South Asian Travel Awards 2017 for deploying next generation technology for South Asia's travel industry.

The first online platform to build, customize, edit and price travel itineraries, Makeyourtrip.com was awarded in the categories of 'Leading Travel Technology, South Asia' and 'Leading Travel Technology, Sri Lanka' at this awards show, which was held at the Equator Village in Addu City, Maldives.

Now in its second consecutive year, the South Asian Travel Awards is the first awards programme to be endorsed by multi-national tourism and travel associations regionally. With the overall goal of raising industry standards and service levels, the awards welcomed over 450 nominees in 2017, with representatives from the Maldives, India, Nepal, Bhutan and Sri Lanka in attendance.

Awards were given out in over 40 categories including travel agencies, tour operators, full service airlines, low cost airlines, adventure tourism and hotels.
"It is an honor for Makeyourtrip.com to be recognized for its best-in-class technology, and in particular for our technology leadership role in South Asia. Primarily focusing on ease-of-use and flexibility, the hallmarks of Makeyourtrip.com, our platform is a leading choice for customers in Sri Lanka because its use is as simple as picking a destination, and build your own holiday with best prices always guaranteed. The process is also completed with just a few, easy clicks," said Makeyourtrip.com Chief Business Officer Krishnagoby Thangavel.

Powered by Findmyfare (Pvt.) Ltd, Sri Lanka's largest online travel agency, Makeyourtrip.com encompasses every aspect of a trip, from flights and hotels, to visas, transfers and even tourist activities. It is the all-in-one place to book your entire journey and stay. In addition, since the entire itinerary comes with split costing, you have full control over what you want to spend on when you plan your trip.