---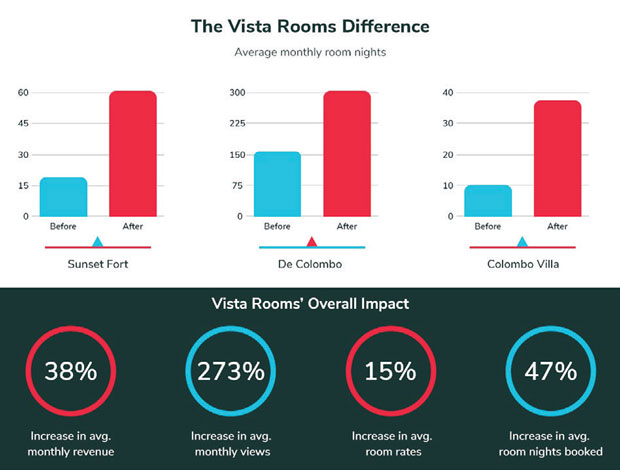 Sri Lanka is witnessing a surge in tourism that has the potential to make it one of the most popular tourist destinations in the world. The country attracted over two million tourists in 2016, generating revenue of over US$3.5 billion, up by 14 percent from the previous year.

While international hotel brands are looking to capitalize on this opportunity, 60 percent of available rooms still comprise of home stays, apartments and villas in Sri Lanka. Large hotel chains rely on huge marketing spends and experts to maintain their brand's presence in the market, but there are quite a few things that a property owner can do to stay relevant and maximize their potential.

Vista Rooms, a firm which partners with property owners to help grow their businesses sheds some light on how a property owner can grow their monthly revenue by over 47 percent.

With a majority of customers booking their travel itineraries online, good content goes a long way to establish trust. In a competitive market, posting high-resolution photos of your property is the easiest way to stand out. Offers over social media, defining a target audience and loyalty programmes work very well in increasing visibility and reputation. A good content strategy can lead to a drastic increase in room nights booked and hence, overall revenue. Like the graph below depicts, Vista Rooms was able to increase these substantially for its partners.

Room rates constantly fluctuate in the hospitality industry and price optimization is often overlooked by property owners. Keeping a track of the pricing of similar properties in the vicinity, running last-minute/early bird/long-stay deals on online travel agencies (OTA) will help sell inventory faster. Room rate projections and analyzing booking data to predict demand during peak season, long weekends and public holidays can go a long way to optimize prices. As a result, more room bookings allow one the leverage to increase room rates over time.

The fastest and easiest way to convert more customers is by listing the property on multiple booking platforms. Being present on a single platform like Airbnb might get some initial traction, but a steady flow of bookings is possible only by listing the property on more platforms. Maintaining a good content score is essential for potential guests to discover your property. For example: A good title on Airbnb can increase your monthly views substantially. It's important to keep your inventory up to date and the response time high on OTAs to keep your content score high.

Communication and service are at the core of the guest experience, and therefore, the faster you deliver, the closer you get to their on-the-go lifestyles. Keeping the turnaround time for customer inquiries to less than one-hour goes a long way to establish trust and hence, convert faster. Vista Rooms assigns dedicated managers to each property to ensure a smooth experience right from the first inquiry to the check out process. Build a direct connection with the guests during their stay, so that they establish an affinity to the property and book directly the next time, instead of an OTA.
Another aspect that property owners struggle with is getting more positive reviews for their properties. An industry which survives on word-of-mouth, the only way to grow on online platforms is to ensure a steady flow of reviews. Typically, 10 positive reviews are what it takes for a property to start receiving regular bookings online. Reminding guests through an e-mail, giving out incentives are a couple of ways to boost the number. Vista Rooms has played a key role with their partners to increase their review scores on OTA. For example: Villa Capers went from a 6.1 review score to 8.2, Colombo Villa from 0 to 9.2, and Sunset Fort from 5 to 8.

300 other property owners are using Vista Rooms in Sri Lanka to get a 360 degree approach to handling their properties and as a result, growing their businesses. The graph below depicts the kind of impact they've had on this fast-growing industry.