---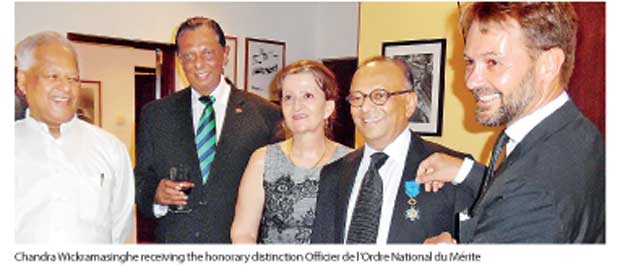 Former SLAITO President Chandra Wickramasinghe was bestowed with the honorary distinction of Officier de l'Ordre National du Mérite by the Embassy of France to Sri Lanka and the Maldives recently, in a ceremony held at the Résidence de France.

The esteemed award is a French order of merit with membership awarded by the President of the French Republic, and is considered a highest national honor in France.

This accolade recognised Wickramasinghe's career that spans over three decades as a pioneer of the tourism industry. He is the founder the Alliance Française de Kotte in Colombo, a leading institution for French education and Culture in Sri Lanka. As the Founder/Chairman of Connaissance de Ceylan, he was a pioneer in securing the French Market to Sri Lanka in the early 80s. He believes his high level proficiency in the French Language and the industry experience he gained in France helped him to break through to the market with much ease. As one of the leading inbound tour operators in the French market, his contributions helped enhance the economic and cultural ties and mutual understanding between the two nations.

In his capacity as the former President of the Sri Lanka Association Inbound Tour Operators (SLAITO) he contributed significantly by assisting members in developing marketing plans and creating awareness via education and exposure. He specifically encouraged new thinking and spearheaded research initiatives to grow the industry particularly in the Eastern Europe and Middle Eastern markets whilst contributing significantly towards enhancing the quality of each members product offering.

Among his peers at the time, he was the first to visit Kandalama, and identify the true potential of the location. He initiated investments in Kandalama by founding Culture Club (now Amaya Lake). Through Culture Club, Wickramasinghe initiated Eco-Cultural tourism, yet another concept introduced by him to the tourism industry in Sri Lanka. Eco-Cultural tourism is now a popular theme in Sri Lanka and is widely used among hoteliers.

Wickramasinghe's work has been recognized through awards in previous occasions; in 1999, he was awarded the Entrepreneur of the Year, he also won the National Silver award presented by Sri Lankan Federation of Chambers of Commerce and Industry. For his contributions made for the Tourism Industry, he was also selected for the 'Business Today Passionate 2017' award recently.